CAPE TOWN, (Reuters) – Former South Africa captain Graeme Smith has no immediate plans to retire despite suffering another serious injury and sending what seemed a farewell message earlier this week.
Smith, who is set for surgery in Cape Town after fracturing his knee playing for English county side Surrey, told South Africa's Eye Witness News yesterday he hoped to continue his career.
"I have unfortunately gone there two years in a row and picked up two pretty serious injuries, which curtailed my time at the club. It has been disappointing. The club wants me back. If I can get back this season, that would be good," he said.
The 33-year-old Smith wants to compete in domestic cricket for the Cape Cobras in the next season and possibly play in Twenty20 cricket in Australia.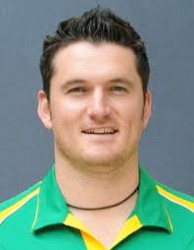 He announced his shock retirement from international cricket in March after playing 117 tests, 109 as captain.
"But I guess for me, it's just about getting the knee done and going through the recovery process. Hopefully in that period, I can decide what the right way forward is for me at this stage in my career."
Smith was diagnosed with a fracture in the tibial tuberosity of the right knee last week after playing through several matches with painkillers.
His first season in country cricket last year was cut short by a serious ankle injury and he managed just five championship appearances this summer.
Smith appeared to tweet a farewell to the club on Monday: "Injuries are always tough especially when you feel job is half done. Sad to be leaving @surreycricket today but wish the club and team well."Team is young but has great potential. I look forward to seeing the growth in performance and stature over the next few weeks. It's been a privilege to be a part of @surreycricket and thank everyone at the club!"
Around the Web