(Reuters) – The San Antonio Spurs dug deep to score a thrilling 112-107 overtime victory over the Oklahoma City Thunder on Saturday to advance to the NBA Finals and a championship rematch against the Miami Heat.
With point guard Tony Parker sitting out the second half due to a sore ankle, the visiting Spurs relied on their deep bench before turning to evergreen power forward Tim Duncan in overtime to clinch a win that gave them the Western Conference title 4-2.
A frantic comeback keyed by Kevin Durant and Russell Westbrook allowed Oklahoma City to erase a 12-point deficit early in the fourth quarter, with two free throws by Westbrook tying the game 101-101 at the end of regulation.
The tight struggle broke the pattern of the series, which had seen the home team win comfortably over the first five games by an average victory margin of 20 points.
Duncan, however, made it comfortable for San Antonio at the end.
The quiet superstar scored seven points in a row in the closing minutes of overtime after trailing 105-103, receiving the ball down low and delivering a master lesson on post-up basketball to premier shot blocker Serge Ibaka.
"We wanted it badly," said 38-year-old Duncan, who kept backing his way in toward the hoop. "They put it inside to me matched up against Ibaka, and I did what I could.
"I tried to neutralise his jumping and his blocked shots. I just tried to get underneath him and use my size to get over the top of him."
The virtuoso overtime performance by Duncan gave him 19 points in the game along with a game-high 15 rebounds. Bench player Boris Diaw led San Antonio with 26 points while fellow reserve Manu Ginobili scored 15 points.
Versatile Argentine veteran Ginobili also helped pick up the slack at point guard after Parker was relegated to the bench.
Westbrook led the Thunder with 34 points and Kevin Durant added 31 for Oklahoma City.
IMPROVISING SPURS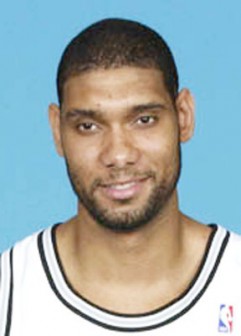 Bench players accounted for 51 points for the Spurs, while the Thunder only had five players score in the game, with Derek Fisher's five points the only Thunder scoring coming from a non-starter.
"We fought as hard as we could all night," said NBA Most Valuable Player Durant. "We left it all out there. They made plays down the stretch and we didn't."
Spurs coach Gregg Popovich had to do his share of juggling to compensate for the loss of Parker.
"We had to kind of improvise along the way," said Popovich. "We ran some things for Manu, some things for Boris, some things for Timmy. Just try to change things up.
"Timmy came through, Manu came through and Boris was fantastic all night long."
San Antonio looked to have broken the game open despite missing playmaker Parker when they outscored the Thunder 37-20 in the third quarter for a 10-point lead at 79-69.
But the dynamic duo of Durant and Westbrook helped the Thunder squeeze by for a 99-97 advantage before Ginobili scored four straight points for the Spurs prior to Westbrook's game-tying free throws at the end of regulation.
"It's hard to win a championship," said Thunder coach Scott Brooks, who lost to the Heat two years ago in the NBA Finals. "We've got to keep our heads up and move on."
The Spurs, who lost a heartbreaking seven-game Finals last year against Miami, will host LeBron James and the Heat in Game One in San Antonio on Thursday.
The Spurs, who have won four NBA titles since Duncan joined the team in 1997, came agonisingly close to their fifth ring last year before a last-second three-pointer denied them victory in Game Six against Miami, who went on to win the crown.
"It's unbelievable to regain that focus after that devastating loss we had last year, but we're back here and we're excited about it," said Duncan.
"We've got four more to win and we'll do it this time."
Around the Web