Khemraj Pooranmall was crowned national champion on Sunday when the Guyana Draughts Association held its national championships last weekend at the National Gymnasium on Mandela Avenue.
Pooranmall ended the eight-man round robin competition with 27 points.
Occupying second position was relative newcomer Floyd Cumberbatch on 23 points while veteran player Carlton Simon rounded out the top three positions with 22 points.
It was the third title triumph in successive years for Pooranmall who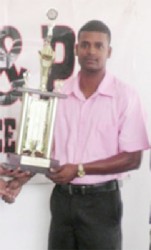 also won the A category tournaments in 2012 and 2013 and it solidified his status as the country's top draughts player.
Pooranmall told Stabroek Sports yesterday that he was always confident of winning the title.
"Before I left home on Sunday morning I told my wife that I would be returning home with the trophy," he said.
Pooranmall lost only one game to Cumberbatch a match he later described as his toughest.
On Saturday Mark Braithwaite won B class with Michael Francis second, the two players qualifying to participate in the A class tournament the following day.
Next up for the champ is the 100 squares tournament which Pooranmall won last year when it was sponsored by P&P Brokers.
The national champion said he was confident of winning this tournament too and has already commenced preparations.
Pooranmall who says he has been playing internationally for a few years now was adjudged the best Guyana player last year when Guyana played Suriname in a tournament held at the Providence National Stadium.
Around the Web