Executive Director of International Recruiting for the Baltimore Orioles, Fred Ferreira tipped Guyana as the country with most potential to source players to major league baseball in the US due to the sheer strength and talent they've displayed.
Ferreira, a veteran of the game for 35 years told Stabroek Sport in an exclusive interview yesterday that he has signed many players over his illustrious career, 68 of whom made it to the major leagues. He was named Baseball Scout of the year in 2012 and has found players for teams such as the New York Yankees which he spent 10 years recruiting for, 12 years with the Montreal Expos, five years with the Miami Marlins, two years with the Los Angeles Angels and is currently enjoying a productive three-year stint of enlistment with the Orioles.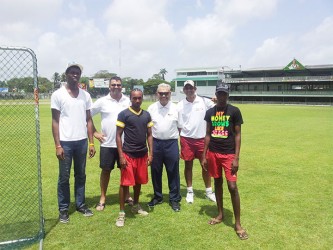 "I go all over the world, but this is my first time in Guyana and it won't be my last I'll make sure I come back again," he said, adding that he was "very impressed" by the young men who are avid cricket players with an aptitude for baseball.
Ferreira said the local baseball players have shown "tools" that he finds impressive and hopes that they can progress to the professional level of the sport as he is here "to find a prospect."
According to the international scout, Guyana is a budding powerhouse of baseball talent as the youngsters here are "bigger and stronger" with good athletic abilities compared to other countries. He commended the local cricket fraternity for helping to make players more rounded for baseball with regards to catching, throwing and hitting.
The recruitment drive is being held by the Guyana Baseball League (GBL) President Robin Singh who continues to take the sport from strength to strength. Singh recently held a number of activities countrywide which seeks to identify budding baseball players.
Meanwhile, Ferreira said he is not interested in finding just one or two players but rather a number of them whose talent can be honed to play in the major leagues. Once identified, these players will then negotiate and sign contracts then compete with a rookie league where they can then become professionals.
The veteran pathfinder said that he was amazed by the batters who showed tremendous prowess in their power-hitting, naming Julian Fortune and Jamel Anderson who have captured his attention. On his next visit to Guyana, Ferreira said he'd like to witness an actual match in order to properly assess the players' strengths and weaknesses.
The interview was hosted at the Georgetown Cricket Club ground.
Around the Web