National cyclist, Alanzo Greaves pedaled to victory in a Pro 1-3, 36-mile race at the Floyd Bennett Field in Brooklyn, New York on Tuesday.
Greaves who is on a six-week training and competing stint in the US ahead of the Commonwealth Games in Glasgow, Scotland next month bested 35 other wheelsmen in the 12-lap criterium event.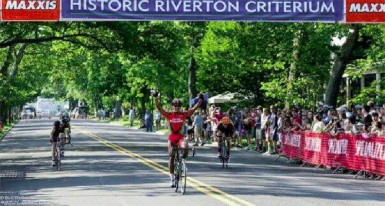 It was Greaves' first win after three tries since traveling further north on May 20.
"I'm feeling good on the bike right now, I just had to get accustomed to the type of racing over here" Greaves told this publication on Tuesday.
Greaves reveled that "My next races are on Saturday and Sunday and I expect to win again, I'm racing in New Jersey this weekend and the Riverton on Sunday I won it last year, so I'm definitely looking for a repeat."
The 25-year old Roraima Bikers Club standout was on a similar stint last year and rounded into sublime form upon his return.
Greaves was the most successful cyclist last year, winning 22 local and three international events.
His aim is to use the international events to peak in Glasgow.
Around the Web