A few hours after completing a grueling workout yesterday, Guyana's world renowned bodybuilder, Hugh Ross picked up his bags, drove to the JFK International Airport and boarded a plane for Northern Ireland.
The US based behemoth flew to the UK territory to compete at the 31st NABBA World Bodybuilding Championships on Saturday at the Belfast Waterfront.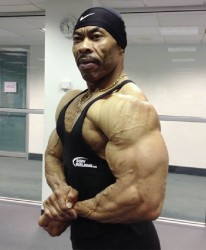 The shredded 54-year old won the Masters category of the championship in 2012 and is once again on a mission to hoist the Golden Arrowhead on the highest pinnacle.
Ross is upbeat.
"I'm very respectful of my competitors, I have no idea who I am going up against but I am always confident in myself, I am always satisfied that at the end of the day regardless of the placing that I have done my very best."
Satisfied with preparation?
"I'm satisfied with my preparation, I have trained all the way up until this morning, and everything is pre packed so I ought to be fine.
I have made some drastic adjustments to my preparation this time around and the changes will unfold almost on a daily basis based on how I look and feel."
However three days out Ross is not where he wants to be "Right now I'm supposed to be feeling weaker, the fact that I am feeling this strong is a clear indication that I am still not fully depleted , I still have a lot of glycogen stored in me so I'm going to run my depletion longer than usual".
In the same breath, the fitness trainer said "Pre judging is Saturday morning at 10am and will be prepared that. I plan to be on stage weighing 200 ultra-shredded pounds."
Ross won the Mr. Universe Masters in 2010 and the World Championship in 2012. Since he has a tendency to win major competitions on a biennial basis, 2014 should see the striated gladiator bringing home the bacon
Around the Web