All-rounder Kellon Carmichael said despite churning out match-winning performances for his English Club Hadleigh and Thundersley he has not yet reached his goal and he plans to focus on one match at a time during the ongoing season of the 2014 Essex county Division One League.
When Stabroek Sport contacted the Malteenoes player via social media yesterday, he said that his confidence was "growing game by game" while adding that despite good knocks with the bat he wants to improve in that area.
"At the moment my confidence is growing in the batting department, there is still work to be done there but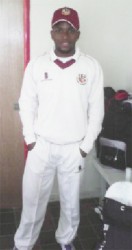 I'm very much confident with my bowling it's going very well for me. I'm getting deliveries in the right area which is producing wickets and most importantly winning games for my team," he said. Carmichael also said that he is quickly acclimatizing to the conditions.
To date the right-hander has recorded outstanding figures of 2-49, 2-30, 3-45, 3-35 and a career best 7-16 with the ball, while in the batting department he has chalked up scores of 68, 59, 48, 28, 19, 11 and 6 most of which steered his club to wins. Speaking about what he has learnt from competing in England, Carmichael said, "So far I learnt that batting, especially in the early part of the season is that you have to be patient and play the ball a lot later because the ball is not coming onto the bat quickly."
"You have to be really patient because the ball is seaming and swinging a lot so you have to play late and bat long that is the advice that I have been given and so far it worked out for me because each time I bat it gets better and better for me," he said.
player also noted that when it comes to bowling it is a bit easier due to the nature of the pitches and bowling fuller lengths along with variations in the route that he has taken successfully.
With the season ending in September, the 26-year-old said that he aims to continue to grow from strength to strength and to play a major role in his team finishing the league season in the top three.
"My main goal is to help my team finish among the top teams in the league, as well I have some personal goals I want to acquire. I just want to lift the standard of my personal game with regards to batting, bowling and fielding," he said.
Comments

Ladies and gentlemen it's Showtime. All of the boxers on the six-fight 'Bad Blood' (Sangre Malo) card scheduled for tonight at the Cliff Anderson Sports Hall cleared their final hurdle yesterday by making weight in their respective weight classes.

Stumps on day two of Guyana's Jaguar's final round clash against the Trinidad and Tobago Red Force ended on a bittersweet note for young sensation, Sherfane Rutherford who fell agonizingly short of his maiden first-class century at the Guyana National Stadium, Providence yesterday.

LONDON, CMC – Under-fire West Indies Under-19s and their embattled captain, Emmanuel Stewart, have found backing from the historic Marylebone Cricket Club, in the controversial 'obstructing the field' dismissal of South African opener Jiveshan Pillay, during their ICC Youth World Cup match last Wednesday.

BRIDGETOWN, Barbados, Jan 19, CMC – Barbados Pride pace quartet of Chemar Holder, Keon Harding, Justin Greaves and Dominic Drakes brought to life a pedestrian day with hostile bowling in the final hour to put Jamaica Scorpions on the back-foot in the Regional 4-Day Championship on Friday here.

BASSETERRE, St Kitts, CMC – Devon Smith's bid at history proved anticlamatic when he suffered the indiginity of a one-ball 'duck' on the opening day of Windward Islands Volcanoes' final round match against Leeward Islands Hurricanes here Thursday.