The fourth edition of the annual Digicel schools football championships will be bigger, better and more lucrative.
During the official launch of the tournament yesterday at the school of the two-time defending champions, Christianburg Wismar Secondary, it was disclosed that 12 new schools from eight regions will be vying for the $1M first prize up from $750,000 last year.
According to Digicel's Marketing Executive, Jacqueline James, "Digicel wants to show their continued commitment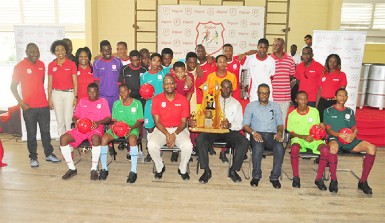 to the communities," under the theme "unite, develop and excel." The school placing second will receive $600,000 while the third and fourth placed schools will pocket $400,000 and $250,000 respectively.
"All prize monies will go towards school projects," James stated.
The company's Marketing Executive also disclosed that all regional champions will be rewarded with $100,000 whether or not they advance further.
To a loud applause James said smiling that "All teams making it to the quarter finals, each person will receive a smartphone."
She concluded by stating that so far 124 schools have confirmed their participation for the tourney which kicks off on June 16 but that number is expected to increase.
Coordinator of the championships, Lavern Fraser said:"Digicel doesn't see football as just a sport but as an opportunity to grow and foster talent."
Fraser noted that new venues will be hosting games adding…."We are looking forward to keen competition.
"We will deliver and at the end of this fourth year it will be bigger and better," said Fraser.
Brief remarks were also made by Head Master for the CWSS, Cleveland Thomas and Regional Chairman, Sharma Solomon.
Around the Web