Secretary of the Georgetown Football Association (GFA) Odinga Lumumba said that he is prepared to work along in the near future with the Christopher Matthias led Georgetown Football Federation (GFF) in order to take football forward.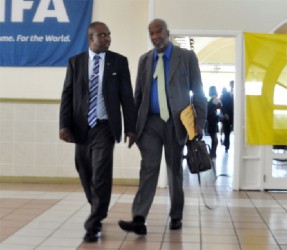 Lumumba confirmed this with Stabroek Sport yesterday in wake of FIFA's Thursday June 5th warning against the GFF which outlined that the federation could face "sanctions" if they do not hold an "Extraordinary Congress" before August 10. The GFA Secretary during an invited comment said that "We (the GFA) have to work with Chris and come together in a united position."
He said that what FIFA ruled they will have to follow.
Matthias, who held a brief press conference at the GFF office yesterday explained that he is willing to work along with the GFA and its members in order to move football forward. When asked about his thoughts towards the GFF President's notion, Lumumba declared "I love it!"
Lumumba said he was glad that the two factions were willing to put aside their difference for the better of the sport.
"Once Chris (Matthias) is serious we could work as one towards one agenda in brotherhood and we will talk and find ways to come up with solutions," said Lumumba who further hinted that he will speak with his members of his association about working along with Matthias and company.
Lumumba reiterated that once the GFF was willing to move forward, he personally is up for the task, citing the bigger picture which is to take the sport forward for the better of the country.
Meanwhile, Matthias during his concise press conference pointed out that he and his party will continued to provide transparency, accountability and inclusiveness for all, while adding that not only is he open to work along with Lumumba and his group but he is willing to do so with anyone who aims to take the sport to the top.
The GFF president pointed out that despite various attempts by persons to tarnish his image as GFF boss he had maintained a strong head and openly admitted that while a lot of scrutiny has been placed on and around him during the past year serving as leader, documentation and records show that the GFF has been run with utter transparently.
On Wednesday FIFA Secretary General Jerome Valcke via the same release which pinpointed the possible sanctions also noted that the May 31 reconvened elections is illegal and that FIFA only recognizes the Matthias led party. The fraternity will now await the possible partnership between the GFF and the GFA ahead of the August 10 deadline.
Around the Web