Two weeks after failing in his maiden bid to capture the WBC world featherweight title, Clive 'The Punisher' Atwell broke his silence to the media yesterday at the Millennium Manor.
The fighting pride of Guyana (12-1-1, 7 KOs) lost via technical decision after Jhonny Gonzalez (56-8, 47 KOs) suffered a cut at the side of his left eye after a clash of heads in the 10th round.
After the stoppage, the fight went to the scorecards and the judges saw the Mexican winning 99-89, 96-92 and 98-90 but Team Atwell and many others present at ringside felt he was robbed.
Atwell reiterated his stance yesterday.
"I don't think the decision was fair, I looked at the tape and I saw several times I was leading on the scorecards and automatically he ended up way ahead of me. Looking at the fight I don't think I performed at my optimum, I'm still trying to figure out why but looking at the tape the fairest decision should have at least been a draw."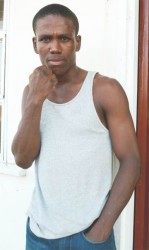 Thoughts of the premature stoppage?
"The stoppage was definitely a flaw of the WBC rules, when you assess the rules especially when it comes to a head butt you can clearly see it was flawed.
"I personally believe it was because he was fighting in his backyard because when you look at the tape you will see that the cut did not warrant a stoppage."
The 25-year old however mentioned that there are positives to be taken from his first loss as a professional.
"I fought the best in the division in the world and I'm now more marketable, I've seen my name on websites that I never saw before so my market value has risen to an A level. I'm more marketable, my name is out there and I have more bargaining power."
What is next on Atwell's to do list?
"There are still offers that were on the table before, but like I said earlier, I'm not going to jump into anything, there is a great possibility that I would be in the ring in August or September. There is the Commonwealth title and the WBC Silver belt that I'm targeting."
In conclusion, Atwell stated that "I will be using those fights to continue my quest for a world title and when I get it, I don't plan on leaving it in the judges' hands. (Emmerson Campbell)
Around the Web