SAN ANTONIO, (Reuters) – LeBron James insisted he will be "100 percent" for Game Two of the NBA Finals today after being forced from the series opener during crunch time against the San Antonio Spurs.
James received two and a half bags of intravenous fluids after the Spurs' 110-95 victory on Thursday because of leg cramps he suffered midway through the fourth quarter.
"I should be 100 percent on Sunday," the most valuable player of the finals the last two seasons said Friday. "Training staff said I should take it light today, give the body another day to recover.
"Tomorrow I should be back on my feet full go, and I've got all day Sunday to get ready for Sunday night."
An electrical outage at the AT&T Center on Thursday cut the air conditioning in the 18,000-seat arena, creating sweltering conditions for both players and fans.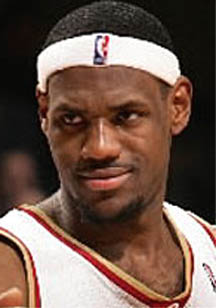 James, who has a history of cramping, played only five minutes in the fourth quarter, and left the game for good with four minutes remaining and the Heat trailing 94-92.
The 10-time All-Star had to be helped by teammates to his seat on the bench. With James out, the Spurs staged a late-game rally and won easily.
"I hydrated as much as I could to the point where your stomach feels like it just can't take anymore," he said. "Last night it just got to a point where the body just had enough, just dehydrated.
"Between jumping and running and cutting and sweating and a little bit of everything, exhaustion, the body just hit the shutdown. Nothing that you can do about it, in my case.
"It's frustrating for sure, but nothing I can do about it."
Heat coach Erik Spoelstra said James has taken all possible precautions and has had "minimal issues" with cramps since being hobbled in Game Four of the 2012 finals against Oklahoma City.
But, he said, Thursday was another matter, as on-court temperatures approached 90 degrees (32C).
"The preparation he had to the game was excellent," Spoelstra said. "It needed to go to another extreme level. He took seven cramping pills. He was taking electrolytes the entire game, during halftime, building up his fluids.
"Every timeout we took him out of the game, far more frequently than we ever have in the past."
Around the Web