Guyana's world renowned bodybuilder, Hugh Ross is now the second best in the world.
Ross was the first runner up in a field of nine bodybuilders in the Masters' Over 50 category at the 31st NABBA World Bodybuilding Champion- ships on Saturday at the Belfast Waterfront in Northern Ireland.
The 54-year old behemoth who took the staged with 199lbs of shredded muscle, shrugged off cramps in his quarter turns routine to finish second to UK's Gary Lister who is a nine-time Mr. Universe Masters champion.
Third was Martin Holroyd from the UK as well.
"I got second and the crowd was not pleased with that at all but it is what it is," Ross told Stabroek Sport. "Gary is a nine-time Mr. Universe winner, somebody who I have known for a while, sometimes I beat him, sometimes he wins me so that's how that one went."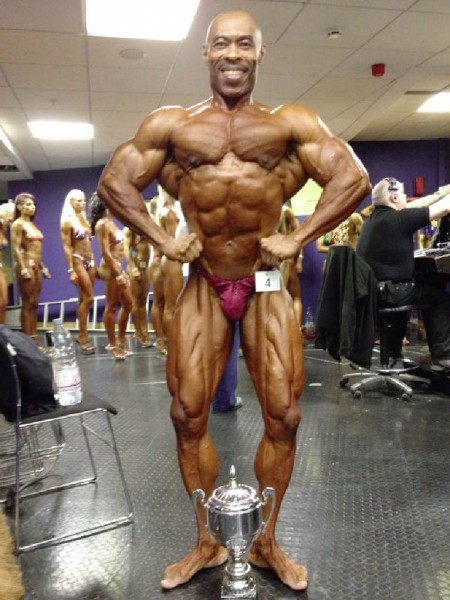 As customary, the entire category was brought on stage for the mandatory quarter turns, then individually to execute their routines then again as a group for comparisons.
Ross, who won the event in 2012, started cramping immediately during the routine for which he attributed to dehydration since he had stopped taking water 24 hours prior and a lack of sodium.
According to the muscleman, he was able to rush backstage after the quarter turns to administer some therapy to himself which seemed to have helped.
Ross said when he returned for the posing routine he came out swinging. "It was flawless and done to precision to pieces I recorded in a studio from the Marathon, one of the theme songs from 300 Rise of the Empire and the remix of Calvin Harris' Under Control which was loudly applauded."
Ross returns to his adopted home in New York on Tuesday after stops in a few European countries to visit his friends and thereafter he will resume his normal duties at work
"I'm eagerly looking forward to going home after work and not have to travel to the gym for at least two weeks, I have no intentions of driving down a street that has a gym" Ross laughed.
Ross thanked this publication for continuous media coverage, his mother, siblings and family for their support. He also thanked Bob Gruskin, president of NABBA USA for encouragement, the HRC Committee members, Allison Yhap, Lee Baptiste, Franklin Wilson and Dexter Garnett along with Minister of Sport, Dr. Frank Anthony, Carlton Jaoa of Banks DIH Limited.
The City Mall, Jade Beepat and the Giftland Management, Brigadier, Mark Phillips, Keavon Bess, president of the GABBFF, Donnan Joseph, Allison Dundas, Sylvon Gardner, Kerwin Clarke and Dominic Prescott and his training partners.
Around the Web