Works on the foundation of the warm up pool at the National Aquatic Centre have been completed.
This was disclosed by Deputy Permanent Secretary of the Ministry of Sport, Steve Ninvalle yesterday when sections of the media visited the Liliendaal facility.
According to Ninvalle, the Ministry is now awaiting the arrival of the world renowned Myrtha Pools to complete the 25 metre pool.
"The foundation is finished and we are awaiting Myrtha Pools to come in and put in the pre-fabricated walls, we can't give a definite time line but once they (Myrtha Pools) start it should take about three weeks.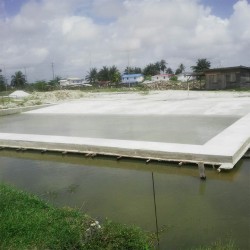 Ninvalle also debunked rumors of the 50 metro pool leaking.
"It is being reported that the 50 metre pool has a leakage but we would like to say that the pool has no leakage."
Director of Sport Neil Kumar told the media that the ministry is always opened to questions and is pleased with the progress of the warm-up pool so far.
"I personally never thought we would have achieved this type of development in sport, I'm very satisfied, things are not easy but I'm very happy we have reached this stage."
Managing Director of Innovative Engineering Consultancy Services, Deoraj Dalchand disclosed why work has been halted on the pool.
"We are waiting on Myrtha Pools to come in they have the walls and the plumbing to do and we have the decking to finish.
"The 28 days curing period of the foundation would have elapsed as of yesterday (June 6) and Myrtha Pools have been informed that is why we have stopped work on the pool because the decking needs to be done simultaneously with the pre-fabricated walls but we have already met all the requirements of Myrtha Pools, noted Dalchand .
Ninvalle concluded that the Ministry of Sport wants to give Guyana the best possible facility even if it means "going the extra mile."
Around the Web