INGSTON, Jamaica, CMC – West Indies were left facing a difficult task, after New Zealand made a mockery of their impotent attack to post a massive total and take command of the opening Test at Sabina Park here yesterday.
Rookie left-hander James Neesham slammed his second Test century, a composed 107, joining Kane Williamson as century-makers in the innings – after the right-hander added eight to his overnight 105 – as New Zealand piled up 508 for seven declared.
Wicketkeeper BJ Watling got 89 and the prolific Toss Taylor, 55, while Tim Southee produced a cameo unbeaten 21 from just seven balls, to hand the visitors impetus.
Left with nine overs to negotiate, West Indies found the safe harbour of the close at 19 without loss, still 489 runs in arrears heading into today's third day.
Kieran Powell was unbeaten on 11 while Chris Gayle, playing in his 100th Test, was not out on eight.
The day could have finished much different for the hosts, however, had Peter Fulton snared a regulation catch at second slip off Powell in the fourth over, after the left-hander sparred at one from seamer Tim Southee when eight with the score on 12.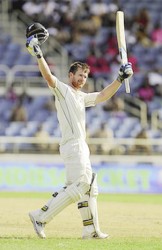 No such luck followed the Windies in the field as they were powerless to stop Neesham and Watling as the pair piled up 201 for the sixth wicket, a partnership that strangled the docile Caribbean side and turned the game in New Zealand's favour.
Neesham became only the eighth batsman to score hundreds in each of his first two Tests, facing 171 balls in 216 minutes at the crease, and counting 11 fours and two sixes.
The knock followed up his unbeaten 137 against India in his debut Test in Wellington four months ago.
Watling, meanwhile, missed out on his fourth Test century, striking seven fours and a six in an innings that lasted 228 minutes and consumed 204 deliveries.
Combative left-arm spinner Sulieman Benn was the best bowler, taking three for 142 from a marathon 52 overs while off-spinner Shane Shillingford finished with three for 145.
In fact, it was Benn who hauled the Windies back into contention, taking two of the three wickets to fall for 59 runs in the first session, as New Zealand stumbled briefly in the morning.
Resuming the day on 240 for two, the Black Caps made slow progress against the pace duo of Kemar Roach and Jerome Taylor, who maintained an accurate line to limit the flow of runs.
However, with no success forthcoming, captain Denesh Ramdin resorted to an all-spin attack after 45 minutes of play and it paid dividends almost immediately.
Benn accounted for Williamson and then captain Brendon McCullum for seven, while Shillingford claimed the other wicket to fall, that of Taylor, as the Black Caps lost three wickets for 20 runs in the space of 48 balls.
Two balls after clearing mid-off with Benn, Williamson suffered a lapse in judgement, offering no stroke to the bowler's arm-ball and having his off-stump rattled at 259 for three.
McCullum lasted just 17 balls before becoming Benn's second wicket, edging one that bounced and turn and struck Ramdin's gloves, before looping to Gayle at first slip.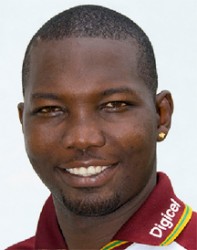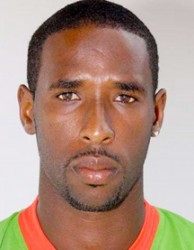 Taylor completed his 21st Test half-century on the stroke of the first hour when he turned Shillingford square for a single, but four overs later, lazily clipped an innocuous delivery from the same bowler to short mid-wicket where Kirk Edwards ran to his left to complete an easy catch.
Neesham and Watling then combined to snuff the life out the Windies attack, taking New Zealand to lunch at 299 for five, before buckling down afterward to frustrate the hosts further.
The 23-year-old Neesham emerged from a cautious start to clear the straight boundaries with Shillingford in the same over to post the 350 for New Zealand, as he looked to accelerate.
He moved onto 48 by whipping Shillingford through mid-wicket for four just after the water break before reaching his fifty, 45 minutes before tea.
Running out of options, a desperate Ramdin summoned off-spinner Gayle for his first bowl in a Test in two years but his five overs cost 17 runs and yielded no success.
Neesham celebrated his fifty with two leg-side boundaries in the same over off off-spinner Marlon Samuels and continued to play positively, speeding into the 80s with two consecutive off-side fours off the same bowler.
Watling, meanwhile, provided the perfect foil, and collecting his seventh Test half-century half-hour before tea with a single to the deep off Samuels.
Unbeaten on 85 at tea, Neesham strolled to three figures 40 minutes after the break, driving Taylor for a couple to cover to raise the landmark. He eventually perished to a catch at the wicket off Benn as he pushed forward.
Aided and abetted by a weary Windies attack, Watling also upped the ante, sweeping Benn to the mid-wicket boundary and then cutting Shillingford forward of point.
He moved into the 80s with a straight six off Shillingford but then holed out deep midwicket off the same bowler, with the charge on for quick runs.
Scoreboard
NEW ZEALAND 1st innings
T Latham c & b Shillingford                                             83
P Fulton c wkp Ramdin b Taylor                                    1
K Williamson b Benn                                                        113
R Taylor c Edwards b Shillingford                                55
*R McCullum c Gayle b Benn                                            7
J Neesham c wkp Ramdin b Benn                               107
+BJ Watling c Powell b Shillingford                             89
T Southee not out                                                               21
Extras (b19, lb6, w5, nb2)                                              32
TOTAL (7 wkts dec; 174.3 overs)                             508
Did not bat: I Sodhi, M Craig, T Boult.
Fall of wickets: 1-9 (Fulton), 2-174 (Latham), 3-259 (Williamson), 4-277 (Taylor), 5-279 (McCullum), 6-480 (Neesham), 7-508 (Watling)
Bowling: Taylor 26-11-37-1 (nb2), Roach 29-6-85-0 (w1), Bravo 1-0-2-0, Benn 52-14-142-3, Samuels 15-1-55-0, Shillingford 46.3-7-145-3.
WEST INDIES 1st Innings
C Gayle not out                                                                   8
K Powell not out                                                               11
TOTAL (without loss, 9 overs)                                   19
To bat: D Bravo, K Edwards, M Samuels, S Chanderpaul, *+D Ramdin J Taylor, S Benn, K Roach, S Shillingford.
Bowlers: Boult 5-2-11-0, Southee 3-1-8-0, Craig 1-1-0-0.
Position: West Indies trail by 489 runs with all 10 first innings wickets in tact.
Toss: New Zealand.
Umpires: R Illingworth, R Tucker; TV – I Gould.
Around the Web