Fazil Haniff aka 'That's it' defeated 34 other golfers to emerge victorious in Crown Mining's inaugural golf tournament played at the Lusignan Golf Course (LGC) on Saturday.
Ten trophies were up for grabs along with a two-cart trolley and two top flight putters.
Haniff afterwards said that he is determined to improve his play and will try to produce even better scores than his gross 79 which, with his handicap of 12, led him to be declared the overall winner of the tournament with a net of 67.
A seasoned player with about 15 years' experience in competitive golf, Haniff has placed first to third place over 10 times in his career. He was also named the LGC's second best Player of the Year, won a KFC sponsored tournament several years ago and carted away three prizes, those for the Longest Drive, Nearest to the Pin, and Overall Winner.
Mike Mangal was the overall second place finisher in Saturday's tourney. He had a gross of 77 and net 66 (from a handicap of 11).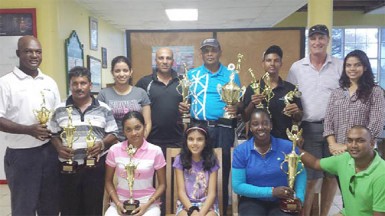 Guyana Open champion Arvinda 'Ganguly' Kishore was declared the overall third place finisher with a gross of 72 and net of 68 (from a handicap of 4) for which he won the best gross prize. He also won the Longest Drive prize, just beating ladies winner Shanella Webster who, until Kishore's last play, was leading as the Longest Drive golfer for the day.
Brian Hackett, who grossed 91 and ended with a net of 65 (from a handicap of 26) came in fourth place.
Webster, who placed first among the ladies finished fourth overall. She is this year's Guyana Open ladies champion and has won several other competitions since she started playing less than two years now, including winning in her category of the Suriname Open golf competition last year. Webster grossed 99, for a net of 72 (from a handicap of 27). Joaan Deo was the second place finisher among the female golfers. She grossed 95, for a net 73, (from handicap 22).
Crown Mining Managing Director Pur Persaud who also competed, said he was pleased with the participation in the tournament. "It was an enjoyable day's play. The golfers turnout was very good and it was a pleasure sponsoring the tournament. Crown Mining is committed to repeating this sponsorship next year and hopes to have even more players from Crown Mining involved in the game," he said.
Lusignan Golf Club Vice-President, Archbishop Dr Philbert London, who also competed, praised the players focus and amiableness despite the adverse weather.
Around the Web