KINGSTON, Jamaica, CMC- Jamaican fast bowler Jerome Taylor says he feels honoured to have been recalled to the West Indies squad after an absence of nearly five years.
Taylor's return to the regional setup has been plagued by a series of back-related injuries over the years.
"It's a prestigious feeling, a feeling I've always wanted," he told the Jamaica Observer.
"I've been looking forward to this for some time".
Taylor was the pick of the West Indies bowling attack with one wicket on Sunday's opening day of the current test against New Zealand.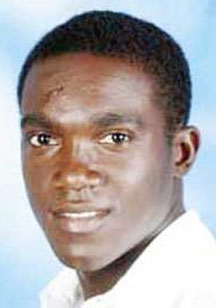 He has returned to the ground where his sensational second- innings spell of 5-11 and match haul of 8-85 helped to wreck England in February 2009.
"I've had very good performances here so it's just to try and get as close as possible to the one I had against England," said who turns 30 later this month.
"It's going to be difficult, but it's a target and if I can get that it would be good for me and for the West Indies."
The Jamaican cricketer has 29 Test matches between 2003 and 2009 and took 82 wickets at 35.64.
He also has a test century to his credit.
"I'm here again and I'm trying my best to stay on the park. It's about continuing to improve and see how best we can take it from here," said Taylor, who was Jamaica's top pace bowler in this season's Regional Super50 and Four-day tournaments.
"It's a lot of work that has been put in over the last couple of months. In the [training] camp the other day I did a lot, physically and mentally. Everything is okay with the back, so if selected, I'm just looking to go out there and exploit (the opposition)".
West Indies and New Zealand are due to play the second Test match at the Queen's Park Oval in Trinidad & Tobago from June 16-20, while the third is scheduled for the Kensington Oval in Barbados from June 26-30.
Around the Web