National senior champion Wendell Meusa last Sunday won six of seven matches to win the ECI-sponsored one day rapid chess tournament
held at the Company's Sports Club, Friendship, East Bank Demerara.
Meusa ended on six points from seven games. His only defeat came against former national champion Taffin Khan.
Khan, however ended in third place with five points after losing to junior player Roberto Neto and Anthony Drayton.
Drayton, who ended on five and half points took second place.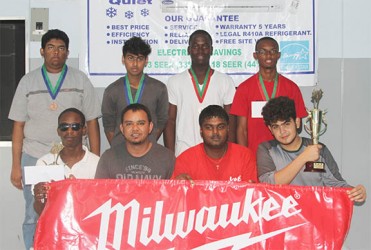 The points standing at the end of the competition saw Meusa 6 Points, Drayton 5 ½ Points, Khan 5, Craig Sylvester 4 ½ and veteran player Errol Tiwari 4.
Maria Thomas, Carlos Petterson and Alex Joseph all ended on two points.
Neto won the junior category from Lindener, Carlos Rahaman who placed second with Saeed Ali third.
The final points standing in the junior category saw Neto and Carlos Rahaman on four points each, Saeed Ali and Ron Motilall each on three and one half points, Davion Mars and Christian Shivrattan on three points each and Owen Mickle and Carsen Shivrattan on one and a half points each.
Meanwhile the GFC in a press release stated that it would like to express a special thanks to ECI for the contribution towards this tournament.
Around the Web