A Guyana senior men's volleyball team recently returned home after participating in an international tournament in French Guiana.
Team from six countries, Suriname, Trinidad, Martinique, Guyana, Brazil (Amapa), and French Guiana participated in the 40th anniversary of the Ligue de Guyane de Volleyball competition.
The 12-member included Levi Nedd, coach, Godwyn Allicock manager, Jadeshwar Doolchand, referee and president of the Berbice Volleyball Federa-tion (BVF) Gregory Rambarran who acted as Guyana Volleyball Federa-tion (GVF) representative/videographer.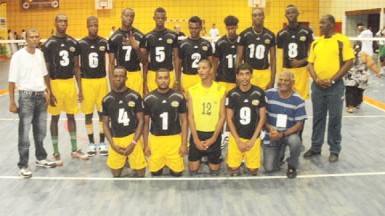 They were led by Captain Jason Seelochan, start players Quacy Matheson, Creston Rodney and Luen David along with Trevon McRae, Ian Bagot, Satesh Seenauth, Beepaul Bandoo, Kapildev Samaroo, Cleveland Peters, Shemroy Ross and Yoganand Dhoray.
On the opening night Guyana opposed the home team losing 14-25,18-25,15-25 and they also lost to Amapa 25-16, 25-19, 25-15. According to Coach Levi Nedd, the team learnt a lot from the experience. He pointed out that the Trinidad, Suriname, Amapa and Martinique teams were playing together for years and the French Guiana team was strengthened with the inclusion of four professionals from France so his charges got to see different systems and techniques in action during the matches.
The long serving coach also said his players are young and talented but need the exposure to get to the next level. He said they only had two sessions as a team before departing Guyana, pointing out that indoor facilities are needed for players to practice defence techniques such as skating, diving and rolling which is very much basic in the modern game of volleyball but the players from Berbice and West Demerara have no such facilities.
Around the Web