After a one-week break, the Wray and Nephew Contender Series will resume June 18 with second seed Tsetsi "Lights Out" Davis facing third seed Howard "Battersea Bomber" Eastman for a ring date in the final.
Eastman is Guyana's last hope of a title triumph in the lucrative welterweight tournament which first boxed off March 19 with four other Guyanese pugilists.
The Jamaicans are relishing home turf and top seeded Sakima Mullings is touted to pocket the spoils.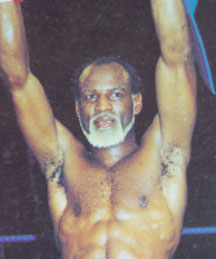 Following the Eastman/Davis bout, Mullings will take on fourth seed Donovan "Police" Campbell on June 25 at the Chinese Benevolent Association's Auditorium on Hope Road, Kingston.
Whatever the outcome, the veteran Guyanese boxer 49(38)-12(2)-0 will be heading to the bank.
The winner of the series will take home J$2 million, second place J$500,000, third place J$250,000 and fourth place J$200,000.
In his two bouts in the tournament so far, the 43-year-old Eastman, one of the major attractions in this year's series, knocked out Jamaican Derrick 'Guts' Spencer in one minute 50 seconds of round two of their scheduled six-round bout.
The 'Battersea Bomber' then unanimously defeated another Jamaican, Kevin 'Bus Boy' Hylton.
Notes: This year's tournament first started with 16 boxers (eight from Jamaica and eight from Guyana, Trinidad and Barbados). Revlon Lake, Derrick 'Dangerous' Richmond, Gladwin 'Tiger' Dorway and Gardel 'The Judge' Roberts were the other Guyanese boxers who were all defeated in their first fights. (Emmerson Campbell)
Around the Web