National star cyclist Alanzo Greaves announced Tuesday that he will be joining Team Mengoni and will race for the unit for the rest of the season.
Greaves, who is on a six-week training and competition stint on the US circuit ahead of next month's Commonwealth Games, garnered attention from the New York-based outfit after winning a 36-mile event at the Floyd Bennett Field in Brooklyn last week.
The 25-year-old sees the opportunity to compete with the team as a step in the "right direction" which can only steer his career in an upward trajectory.
"I never really got a chance to be on a real team in terms of roles in Guyana, I had to ride on my own," Greaves said yesterday. "Up here it's different, you ride as a team and your teammates help you out a lot. Cycling is a team sport and you need teammates to help you out, so I think it's a step in the right direction."
Greaves' role on Team Mengoni?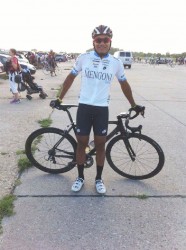 "My role on the team is the sprinter. I started racing with the team on Tuesday and my aim is to do my best to play my part for us to succeed. We didn't do well in the race but hopefully in the next one on Sunday."
Added Greaves "I'm excited to start this new chapter in my career with Team Mengoni. The team has welcomed me with open arms and I'm blown away by the level of support they have shown me."
The team will provide gear and supplements to Greaves who also stated that he may also receive a racing bike next year based on his performances this season.
Greaves has been a dominant force on the local cycling scene for years and proved his worth last season when he was the most successful rider, racking up 22 wins. The talented wheelsman has also represented the Golden Arrowhead on numerous occasions.
Racing for a team further north should bode well for his future. (Emmerson Campbell)
Around the Web