Guyana and West Indies 'A' batsman Leon Johnson yesterday said that he was thrilled over his call up to the West Indies senior team for the ongoing Test series against New Zealand adding that his hard work over the past two seasons with the bat had finally paid off.
"I'm absolutely delighted at the moment about the selection. I've been scoring runs consistently so I'm happy it's been rewarded," said the 26-year-old Guyanese who spoke with Stabroek Sports yesterday in the wake of his West Indies Test team selection.
Although there has been no official release from the West Indies Cricket Board's selection committee, this newspaper understands that Johnson and fellow Sagicor High Performance Centre teammate Jermaine Blackwood have been drafted into the team for the second test which starts in Trinidad on Monday.
New Zealand drew first blood by crushing the home side by 186 runs in the first test in Jamaica.
Johnson, who first made his international debut for the West Indies senior team against Bermuda back in 2008, has been very consistent over the past year and a half.
Over that period Johnson has played 16 matches while scoring an impressive 1300 runs at an average of 50.00 with two centuries and nine half-centuries.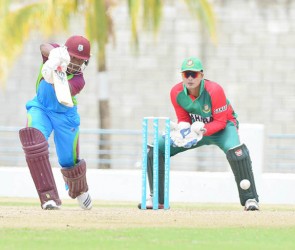 Johnson has practically batted himself back into senior team's fold after having played just three ODI Internationals for the Caribbean side some five years back.
The stylish middle-order batsman has matured in his approach to the game since making his first-class debut at the tender age of 16 and could consider himself unlucky not to be selected for the away series against New Zealand earlier in the year following his excellent form during the 'A' team's away series against India.
Johnson also missed out on being selected for the West Indies senior side for the home series against Ireland and England.
However, after much persistence, confidence and hard work the Georgetown Cricket Club (GCC) player is now closer to his dream of playing test cricket for the West Indies.
"My plan is to continue playing the way I have been playing and it should continue to bring me runs as well as help the team to draw and win Test matches," Johnson acknowledged.
The national skipper has taken his rich batting form from this year's West Indies Cricket Board (WICB) Regional tournaments into the home series between Bangladesh 'A' and the Sagicor High Performance Center where he asserted himself as one of the more consistent players on the tour and has scores of 42, 56, 63*, 67 and 74 against Bangladesh A probably contributed to his call-up.
The former West Indies Under-19 captain said he wanted to acknowledge and thank all those who believed and worked with him throughout his journey.
"I would like to thank my family, my wife, Coach Monty Lynch, executives at the GCC, club mates, my cousin Keino, whom I practice with and my trainer Kezqweya Yisrael," he said.
Around the Web