PORT-OF-SPAIN, Trinidad, CMC– Trinidad and Tobago sports minister Anil Roberts has described as encouraging news, reports that West Indies selectors were reconsidering its decision not to play top ranked spinner Sunil Narine in the current test series against New Zealand. Roberts has dispatched a letter to West Indies Cricket Board (WICB) president Dave Cameron saying he was happy to learn of reports that the board was in discussions with Narine's management on the issue.
Reports in the Trinidad media suggest that Narine could be called up to play in the third test scheduled to take place at Kensington oval in Barbados from June 26.
"This indeed is encouraging news and I commend you and your Board for the maturity shown in acceding to these negotiations," said Roberts in his letter.
"If at all possible, considerations should be made for Narine's inclusion in the team for the second and the third Test matches."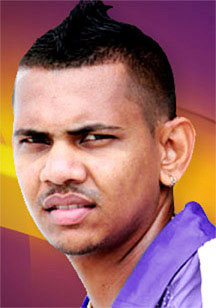 Narine has been at the centre of attention since he was omitted from the Test team after choosing to represent Kolkata Knight Riders (KKR) in the final of the Indian Premier League (IPL) instead of attending a preparation camp for the Test matches.
The decision to omit Narine triggered a series of letters from the Minister, who maintains that his interest is West Indies cricket, and having the best possible players on the field.
West Indies crashed to a massive 186 run defeat in the first test in Jamaica.
"The reality is that we lost the first Test. If they are negotiating with Sunil's management, I don't see why they are focusing on the third Test only," Roberts wrote.
"Narine's presence in the team in Trinidad will not only make a difference to the marketing of the game since Trinis will want to see him in action, but it can also go a long way in how the team performs in the next two matches. It makes no sense saying let's play him in the third in Barbados and not play him in the second where he will be at home in Trinidad."
Around the Web