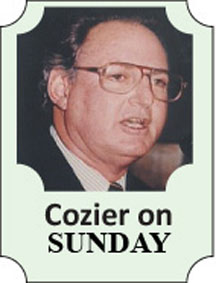 DARREN SAMMY followed his "we cannot continue like this" warning after the West Indies' dismal back-to-back series in India and New Zealand late last year with the observation that the careers of some players would be on the line when they returned to the Caribbean.
It proved prophetic. Ironically, he was the first to go. Replaced by Denesh Ramdin after 30 Tests as captain, he immediately quit Test cricket.
Nothing changed in the first match without him, overwhelmed by 186 runs in four days on home territory at Kingston's Sabina Park last week by the same New Zealand that crushed them there last December.
Marlon Samuels' omission for the second match at the Queen's Park Oval, starting tomorrow, is a probable cue that he will follow Sammy's lead out of Test cricket; he is 33, averages 20.92 in 14 Test innings since his golden year of 2012 and was out for 0 from two balls in each innings at Sabina.
Keiran Powell, the tall, left-handed opener, has also been dropped after 17 innings with a top score of 48 and an average of 19.37 since his hundred in each innings against Bangladesh in Dhaka in 2012. His is more likely an intermission rather than a conclusion; at 24, there is ample time for him to rediscover his obvious ability and, above all, his self-belief, returning preferably in the middle order where, I believe, he is better suited.
Head coach Ottis Gibson's position is another at risk. He and Sammy shared a close, like-minded, discipline-first relationship throughout their 30 Tests together.  The recent meltdown in India and Sri Lanka led to Sammy's demise; the added ignominy of Sabina has further weakened Gibson's status.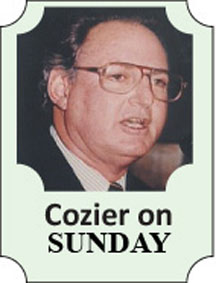 Gibson's has been a long haul. Of all the national head coaches in place when he was appointed by the West Indies in October 2010, he is the only one still standing.
Australia have gone from Tim Nielsen to Mikey Arthur to Darren Lehmann. Jamie Siddons has moved on from Bangladesh as have Mark Greatbatch from New Zealand, Corey van Zyl from South Africa, Waqar Younis from Pakistan and back again, Gary Kirsten from India.
Alan Butcher ended his stint with Zimbabwe after the West Indies tour last year; England shifted Andy Flower from his highly rated role of team coach to technical director of elite coaching after their recent Ashes drubbing in Australia.
Gibson remains the exception to the global trend of a regular turnover of coaches. The well travelled, 45-year-old Barbadian all-rounder had been England's bowling guru when West Indies signed him up; according to his contract, renewed last year, he is now scheduled to carry on to October, 2016.
It is a remarkable permanence, given West Indies' record of 13 defeats, three victories and nine draws in 25 Tests under his watch against opponents ranked above them on the ICC's Test table; major successes (five wins, no losses and a draw) have been restricted to Bangladesh and Zimbabwe.
It is difficult to think of a chief coach in any major sport who would have continued for so long with such a damning CV. But Gibson is the great survivor.
He has been the butt of regular criticism from exasperated fans who judge by results; he was come through heated, divisive controversies involving senior players.
The most prominent was Chris Gayle's standoff with the West Indies Cricket Board (WICB) over harsh words exchanged at long range between the two, leading to Gayle's exclusion from the team for a year and a half until a couple of prime ministers intervened to sort it out.
Ramnaresh Sarwan accused him of telling him "some negative stuff that hurt me mentally and emotionally (and) took a toll on my confidence and the way I play."
Through it all, he has had the full support of the WICB, both under Sir Julian Hunte's presidency and now the new dispensation of Dave Cameron.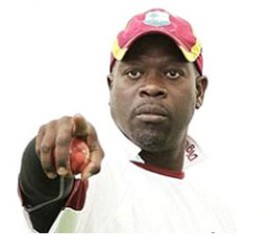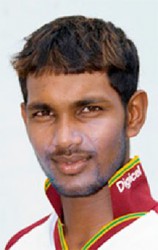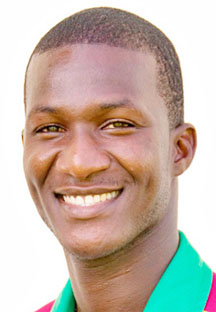 "Ottis has added significant value to the development of the West Indies team during his tenure," the WICB chief executive Michael Muirhead said in extending his contract. "Most notably is that he led the implementation of a system of professionalism within the team unit and curbed the negative results which we were experiencing with some frequency".
Muirhead spoke after 2-0 series wins over Bangladesh and New Zealand and the West Indies' joyous triumph in the World Twenty20 in Sri Lanka; the 2-0 pasting of Zimbabwe in the Caribbean a year ago carried the winning streak to six Tests, a sequence not achieved since the heady days of the 1980s.
The subsequent reversals in India, for the two hastily arranged Tests that were simply a backdrop to Sachin Tendulkar's emotional goodbye, and in New Zealand abruptly turned the negative focus back on Gibson, as it did for Sammy.
Last week's debacle at Sabina Park intensified the pressure.
Still, Gibson is the great survivor and, apart from its enduring faith in him, the WICB might see a couple of pertinent factors to justify his retention. They lie in the voluminous report by director of cricket, Richard Pybus.
It recommends fundamental changes aimed at boosting West Indies cricket overall through an improvement in the way the regional game is organized. They include the 'West Indies First' policy to ensure the participation in regional tournaments of contracted players, an extended first-class season, close attention to the quality of pitches and a consolidated coaching programme for all the territories, directed an overall manager.
It is likely the WICB would want Gibson involved from the start.
In the end, the decision on his future is likely to hang on nothing more complicated than the outcome of the last two Tests of the current contest.
Gibson cannot afford two more performances like Kingston – or like Mumbai, Kolkata, Wellington and Hamilton last year. Otherwise, he could face Sammy's fate.
Around the Web