Team Coco defied the odds to finish first and second in yesterday's 50-mile Father's Day road race at West Demerara.
The club's most successful wheelsman Raynauth Jeffrey placed first in the 15th annual Guyoil/Castrol-sponsored event while new recruit Hamza Eastman placed second in the race which rolled off at Wales, proceeded to Bushy Park and ended at Schoonard.
Marlon 'Fishy' Williams was third while Akeem Arthur, Robin Persaud and Jeffrey's club mate, Junior Niles filled out the top six paid positions.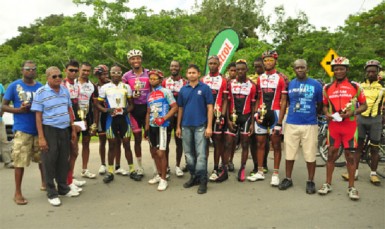 Jeffrey, winner of last year's edition, repeated in one hour, 55 minutes and 17 seconds, a shade better than 2013's winning time (1:55:31).
Team Coco also had the lion's share of the eight sprint prizes. Half went to the national cyclist, Jeffrey while two went to Eastman, the former Team United rider.
The road race started off at a fast clip with the 46 starters jostling for the lead.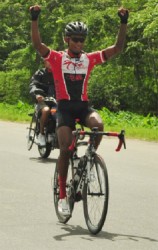 Soon after, Team Coco's riders went to the front of the peloton and assumed position as the early pace setters. There was a series of attacks by several sets of cyclists on the upward journey but on each occasion were wheeled in by the pack.
On the way down the attacks continued but a strong 10-man unit including the top six riders were the only successful breakaway.
This group journeyed together until about a mile from the finish. At this point, Jeffrey changed gears and never looked back to successfully defend his title. (Emmerson Campbell)
Quick Results
Seniors
Raynauth Jeffrey 1:55:17
Hamza Eastman
Marlon Williams
Akeem Arthur
Robin Persaud
Junior Niles
Juniors
Akeem Arthur
Michael Anthony
Stephano Husbands
Mountain Bikes
Ozia McAlley
Lennon Dick
Emmanuel Gayraul
Veterans
Wasim Hasnoo
Davendra Ramnarine
Talim Shaw
Females
Toshwanna Doris
Around the Web