His Excellency President Donald Ramotar along with several former international cricketers are among those listed to compete in the 'Unity for Cricket' T20 match set for July 5 at the Demerara Cricket Club (DCC) ground in Queenstown.
President Ramotar will represent the Roraima Strikers against the Kaieteur Thunders team which is expected to include Alliance For Change (AFC) members Raphael Trotman and Khemraj Ramjattan and former international players Clyde Butts and Reon King.
The event, the brainchild of Dexter Garnett, is expected to begin at 6:00pm and will feature prominent businessmen,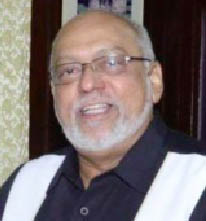 politicians, former West Indies and national players, cricket administrators, disciplined service members, entertainers and radio personalities.
Apart from President Ramotar, the Roraima Strikers team is expected to include Neil Barry, Lloyd Harper, former West Indies player Travis Dowlin, Jomo Primo, Gordon Moseley, Clifton Hicken, Orin Forde, Anthony Rigby, Aaron Fraser, Jermaine Neblette, Kirk 'Chow Pow' Jardine, James Bond, Lennox Cush, Colin Stuart, Alfred King and Anand Sanasie. The coaches are Reon Griffith and Andre Percival.
The Kaieteur Thunders line up will come from Trotman, Asif Khan, Ramjattan, Carey Griffith, Rabindranauth Seeram, Sheik Mohamed, Clyde Butts, Tony Najab, Reon King, Esaun Crandon, David Harper, Alfred Mentore, Lakeram Mike Singh, Ramesh Sunich and Steve Ninvalle.
Andre Percival and Roderick Lovell were the two coaches named for the event.
According to the organisers, there would be a day of practice for each team under lights which would be confirmed shortly. For more inquiries persons can contact Garvin Nedd on 617-938.
Around the Web