Benedict Sukra defeated Kiemo Benjamin in a marathon opening match as the fourth the Guyana Lawn Tennis Association (GLTA)/Guyana Bank for Trade and Industry (GBTI) Open Tournament got on the way last Thursday at the GBTI Recreational Facility in Bel Air.
Sukra and Benjamin answered calls from the sponsors and GLTA officials to make this year more competitive by playing for three hours in a fierce battle on the court that saw Sukra recording a 5-7, 7-6, 6-3 victory after being a set down.
It was a tough task for Sukra against a relaxed Benjamin who was more accurate with his serves and firm with his returns. However, screams of Yes! Yes! Yes! came from Sukra after he won the final set.
The second set was the most difficult for the players but went in favor of Sukra who made fewer mistakes. By the final set Sukra was outsmarting his opponent with some clever stroke play.
Sukra told Stabroek Sports he was pleased to have such a lengthy match since he is making a return to the court.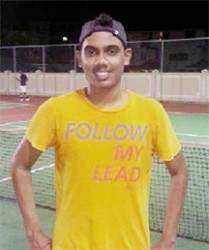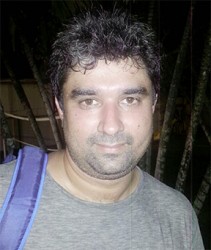 "I've been away from competition since last year due to studies. However, with such a competitive first match that tested my fitness and other playing levels, it should serve as sufficient practice for future encounters during the remainder of the tournament," he stated.
In the night's other matches, Chethan Narayan defeated Bishan Dalip in two sets (6-1 6-0), Viraj Jugdeo got the better of Stephen Bailey (6-0 6-2) and Khalif Gobin outplayed Kester Abrams (7-5 6-1).
On Friday in the men's singles Nicholas Glasgow defeated Leroy Chapman 6/2 6/1 while in the men's doubles Benedict Sukra and Craig Campbell won against Jamal Goodluck/ Charles Adams (6/4 6/3). The other match involving Phillip Squires/Godfrey Lowden versus Oswin Coggins/Stephen Bailey (6/2, 1-1) did not finish due to rain and will resume on a date to be announced.
In the pre-tournament launch on Thursday afternoon Grace McCalman President of the GLTA said it was an honour, on her behalf to be standing as GLTA president collaborating with GBTI on a court where she learnt to play tennis.
McCalman praised the GLTA officials for their commitment during the lead up to the tournament as the GLTA aims to develop the sport in Guyana. "Tennis must be developed so that Guyana can also be recognized for its progress in another sport discipline," she declared.
McCalman called on the sponsors to make the tournament an international one.
"The best players' level would be tested with the inclusion of international players from Suriname, Trinidad, Barbados among others. Therefore the sponsors should seek to make the tournament international," she opined.
GBTI Administration Manager Sean Noel said he was very happy with the progress the GLTA was making as the players were getting the opportunity to showcase their talent.
Noel said both the GLTA and GBTI are benefitting not only because the players are getting to compete but also the visibility the tournament brings to the bank. He also paid tribute to the coaches for making the tournament more competitive each year through the development of the players.
Tandy Primo president of the Non Pariel Club and a member of GLTA tournament chair, in her brief opening speech encouraged everyone to play their best and exercise professionalism while on the court.
National coach Shelly Daly gave details about the tournament stating that there were 63 entries in 11 categories and one split category (novice category). According to Daly all matches are scheduled to start at 5 pm on weekdays while on weekends, all matches will begin at 8 am.
"I hope this year be a more successful and competitive year," she concluded.
Comments

BIRMINGHAM, England, CMC – Inexperienced West Indies will hope to silence their many detractors when they clash with a dominant England in the historic day/night opening Test at Edgbaston here today, in what is likely to be their sternest challenge in recent times.

World Youth silver medalist, Daniel Williams along with CARIFTA Games gold getter Chantoba Bright and South American Junior silver medallist Joanna Archer will spearhead Guyana's 26-member Track and Field team during the Inter Guiana Games (IGG) in Suriname next weekend.

The Guyana Amazon Warriors will play their first home game of the 2017 edition of the Caribbean Premier League (CPL) against the Jamaican Tallawahs this evening at 6:00 pm at the Guyana National Stadium, Providence.

(Reuters) – Serena Williams aims to defend her Australian Open title next year, the American saying the rapid return to action would only give her around three months to prepare after giving birth to her first child.

Guyana got off to a fabulous start yesterday, by winning three matches when play began in the team events at NLA XXV Senior Caribbean Squash Championships in Kingstown, St.