RIO DE JANEIRO, (Reuters) – Uruguay's Luis Suarez's World Cup dream was left in tatters when he was handed a record nine-match ban today by FIFA for biting an Italy defender during a group match.
Suarez was also suspended from any football-related activity for four months and fined 100,000 Swiss francs ($111,000), soccer's world governing body said in a statement.
"Such behaviour cannot be tolerated on any football pitch, and in particular not at a FIFA World Cup when the eyes of millions of people are on the stars on the field," Claudio Sulser, chairman of the FIFA Disciplinary Committee, said in a statement.
"The Disciplinary Committee took into account all the factors of the case and the degree of Mr Suarez's guilt in accordance with the relevant provisions of the Code. The decision comes into force as soon it is communicated."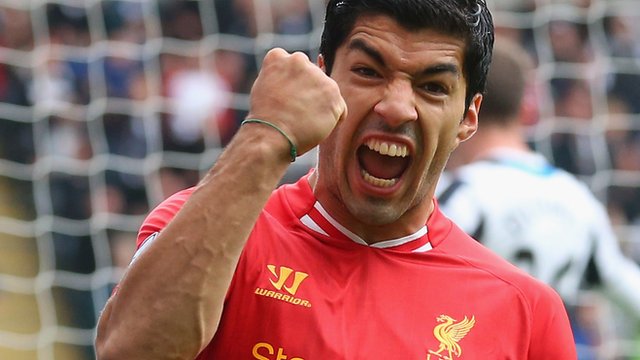 Suarez will miss Uruguay's last-16 match against Colombia in Rio de Janeiro on Saturday and will play no further part in the tournament in Brazil if they progress.
He missed the first match of the tournament due to injury but returned to score twice in Uruguay's 2-1 win over England.
Suarez will not be able to train or attend matches with his English club Liverpool until late October, meaning he will miss at least nine Premier League games and the start of their Champions League campaign.
"Liverpool Football Club will wait until we have seen and had time to review the FIFA Disciplinary Committee report before making any further comment," Liverpool chief executive officer Ian Ayre said on the club's website.
RECORD BAN
Suarez can appeal against the ban, the longest FIFA has imposed for an offence at a World Cup, but it would remain in place while any appeal was heard, said a FIFA spokeswoman.
The previous record ban was eight games on Italy's Mauro Tassotti for breaking the nose of Spain's Luis Enrique in 1994
The 27-year-old Suarez, voted England's Footballer of the Year after scoring 31 league goals for Liverpool last season, has now been involved in three incidents of biting opponents.
He was also banned for one match at the last World Cup in South Africa for a deliberate handball that cost Ghana a match-winning goal in a quarter-final.
The latest biting incident occurred 10 minutes from the end of their final Group D match shortly before Diego Godin scored to give the South American champions a 1-0 win to seal Uruguay's progression and Italy's elimination from the tournament.
Suarez clashed with Giorgio Chiellini who furiously pulled open his shirt to show the mark to the referee, Mexican Marco Rodriquez, who took no action.
Reuters photographs show what FIFA's Disciplinary Committee accepted were bite marks on Chiellini's shoulder and pictures also showed Suarez sitting on the ground holding his teeth immediately after the incident.
IMMEDIATE IMPACT
The ruling will not only have a serious immediate impact on the player and Uruguay's chances in this World Cup, there will also be long-term repercussions for him.
His sponsors had said they would decide on continuing their relationship with him once the outcome was known, and his value in the transfer market, estimated to be at least 50 million pounds ($84.9 million) should Liverpool decide to sell him, could be affected.
Suarez served a 10-match ban last year after biting Chelsea's Branislav Ivanovic in a Premier League match and in 2010 he was suspended for seven games for biting PSV Eindhoven's Otman Bakkal while playing for Ajax Amsterdam.
The other major controversy of his career came in 2011 when he was alleged to have racially abused Manchester United's French defender Patrice Evra during a Premier League match.
He was banned for eight matches and fined 40,000 pounds for that and was then handed a further one-match ban for making a gesture at Fulham fans. When Liverpool played United in the return match that season he refused to shake Evra's hand before the game.
Comments

Yesterday, in perfect conditions for racing at the National Park, Paul DeNobrega sprinted off with the spoils of the feature 35-lap event of the fifth Banks DIH's Non-Alcoholic 11-race programme.
Back Circle will battle Tigerbay, while Future Stars will oppose ESPN in the semifinal round, following quarter-final wins on Friday, in the 3rd Annual Xtra Beer 'Ballers in the Summer' Street Football Championship.

The Guyana Amazon Warriors' horror run in this year's edition of the Caribbean Premier League (CPL) continued yesterday, as they crumbled to yet another defeat, this time falling by seven wickets to top of the table Trinbago Knightriders at the Guyana National Stadium, Providence.

BIRMINGHAM, England, CMC – West Indies suffered a humiliating innings and 209-run defeat in the historic day/night opening Test after losing 19 wickets in a devastating capitulation on Saturday's third day at Edgbaston.
Guyana's Men's and Women's teams will have the opportunity to be crowned as Caribbean Champions when the NLA XXV Senior Caribbean Squash Championships conclude today in Kingstown, St.