BRIDGETOWN, Barbados, CMC – Sulieman Benn's fourth career five-wicket haul rattled New Zealand and gave West Indies the edge, on the opening day of the decisive third Test here yesterday.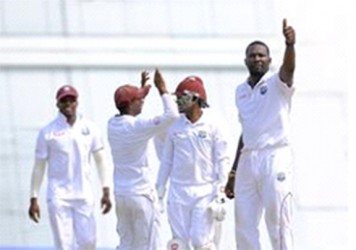 The beanpole six-foot, seven-inch left-arm spinner claimed five for 93 as the Black Caps, winning the toss and batting first, were dismissed for 293, 14 minutes before the scheduled close at Kensington Oval.
Left with seven overs to negotiate, West Indies reached the safety of close without incident, with talismanic opener Chris Gayle unbeaten on 18 and rookie Kraigg Brathwaite on 11.
Using the Oval's 50th Test match as his stage, Barbadian Benn chose an ideal time to produce his best performance of the tour, with the series on a knife's edge at 1-1.
Extracting bounce and turn in an extended spell in the post-lunch session, Benn ripped through the New Zealand innings to send the tourists sliding from 95 for two at the first interval to 194 for seven, as they lost five wickets for 99 runs.
All-rounder Jimmy Neesham top scored with 78 to help prop up the lower order while tail-ender Mark Craig finished unbeaten on 46.
Ross Taylor, with 45, and Kane Williamson, 43, both came within sight of half-centuries before falling while captain Brendon McCullum got a start with 31 but failed to carry on.
Fast bowler Kemar Roach, despite an erratic display, finished with four for 61.
However, it was Roach who made the early breakthroughs after the Black Caps chose to bat first on another flat surface, removing both openers cheaply inside the first hour.
He had Hamish Rutherford caught at mid-on for four, lazily driving an innocuous delivery to Shiv Chanderpaul, in the fourth over of the morning with the score on 17.
Left-hander Tom Latham followed soon afterward in Roach's fifth over for 14, lbw to one that hurried onto him as he got neither back nor forward.
Two overs earlier, the batsman was handed a reprieve thanks to DRS. He was given out lbw to Roach but replays showed the ball pitching out outside leg.
Taylor and Williamson then put on 74 for the third wicket, blunting the Windies attack and taking New Zealand to lunch at 95 for two.
Williamson, especially, grew in confidence after a slow start, collecting back-to-back boundaries off fast bowler Jerome Taylor after the bowler switched ends, following the first water break. The first was whipped through mid-wicket and the second punched through cover.
In Benn's third over, Williamson also collected two boundaries – pulling through mid-wicket and then driving through mid-on.
Unbeaten on 40 at lunch, the right-hander added just three on resumption before perishing in the third over after lunch, caught by Gayle at slip, stabbing at one from Benn that bounced. He faced 68 balls, batting 109 minutes and hit seven fours.
Twenty balls later, Benn pulled off a stunning catch at gully, diving to his right to come up with a one-handed catch to send back Taylor for 45, as the batsmen fended a short one from Roach. The right-hander faced 71 balls in just over 1-1/2 hours at the crease and struck seven fours.
With New Zealand tottering on 114 for four, Neesham and captain Brendon McCullum came together in a fifth wicket stand of 54, which arrested the slide.
Neesham, always looking for scoring opportunities, faced 91 balls in 137 minutes at the crease and struck ten fours and a six – a clean blow over wide long-on off Taylor.
He was off the mark with a streaky boundary past slip off Benn but blossomed to play confidently especially against the seamers.
He flicked Roach off his pads for four before steering Taylor to the third man boundary and driving the same bowler crisply through mid-off for another four in the same over. He reached his half-century in the fourth over before tea, with three to third man off Benn.
MCullum, meanwhile, scored at better than a run-a-ball and struck five fours – three of which came in a poor over from Roach. The first two boundaries were hustled through point while the third was clipped through mid-wicket.
However, he became Benn's third scalp, attempting to turn one that bounced into the leg-side and top-edging a catch to wicketkeeper Denesh Ramdin.
New batsman BJ Watling made just one before falling in Benn's next over, caught at slip by Gayle as he pushed forward defensively, and when Tim Southee was bowled by Benn for six, New Zealand were languishing at 194 for seven.
Neesham and Craig, however, defied the Windies with a 64-run, eighth wicket stand, taking their side to tea at 217 for seven, and then continuing to frustrate the hosts on resumption.
Craig faced 93 balls in nearly three hours at the crease, striking four fours and a six – a fierce hit over long-on off off-spinner Shane Shillingford.
West Indies seemed clueless about breaking the stand when Neesham gifted his wicket, hesitating over a sharp single to cover and then failing to beat the throw at the non-striker's end.
Neil Wagner held out for half-hour before glancing a leg-side catch to Ramdin at 277 for nine to fall for two and Trent Boult smashed a four and a six in 12 before missing a lunge at Benn, and being stumped.
Scoreboard
NEW ZEALAND 1st Innings
T Latham lbw b Roach                                              14
H Rutherford c Chanderpaul b Roach                               4
K Williamson c Bravo b Benn                                    43
R Taylor c Benn b Roach                                              45
*B McCullum c Bravo b Benn                                       31
J Neesham run out                                                         78
+BJ Watling c Gayle b Benn                                         1
T Southee b Benn                                                          6
M Craig not out                                                            46
N Wagner wkp Ramdin b Roach                                   2
T Boult st Ramdin b Benn                                               12
Extras (b5, lb2, wd1, nb3)                                         11
TOTAL (all out, 78.2 overs)                                      293
Fall of wickets: 1-17 (Rutherford), 2-28 (Latham), 3-102 (Williamson), 4-114 (Taylor), 5-68 (McCullum), 6-172 (Watling), 7-194 (Southee), 8-258 (Neesham), 9-277 (Wagner), 10-293 (Boult)
Bowling: Taylor 11-2-55-0 (nb1), Roach 18-2-61-4 (w1), Holder 10-4-24-0 (nb2), Benn 26.2-1-93-5, Shillingford 13-0-53-0.
WEST INDIES 1st Innings
C Gayle not out                                                        18
K Brathwaite not out                                                      11
Extras (lb2, nb1)                                                                 3
TOTAL (without loss, 9 overs)                                  32
Bowling: Boult 4-2-8-0 (nb1), Southee 3-1-10-0, Craig 1-0-12-0, Wagner 1-1-0-0.
Position: West Indies trail by 261 with all ten wickets intact.
Toss: New Zealand.
Umpires: Ian Gould, Richard Illingworth; TV – Rod Tucker.
Comments

A resurgent Guyana Amazon Warriors side completed a comprehensive seven wickets victory over the out-of-sorts St Lucia Stars to cruise to their second consecutive home win in the Caribbean Premier League (CPL) at the Guyana National Stadium, Providence, last evening.

BARCELONA,  (Reuters) – Barcelona are suing Neymar for 8.5 million euros ($10.00 million) for breach of contract as they want him to return the bonus he was paid when he signed a new five-year deal just nine months before joining Paris St Germain, the Spanish club said yesterday.
(Reuters) – Cristiano Ronaldo will have to serve his five-match ban for pushing a referee after the Spanish sports court (TAD) rejected Real Madrid's appeal against the length of the suspension, Spanish media reported yesterday citing court officials.

A 90th+3 minute strike secured Western Tigers a 1-1 draw with Georgetown Football Club (GFC), when the Corona Beer Invitational Football Championship continued on Monday at the GFC ground, Bourda.

Despite concluding the CONCACAF u15 Boys Championship with only one victory from four matches, Guyana Football Federation (GFF) President Wayne Forde said, he is delighted with the team's overall performance.