The Berbice Volleyball Association (BVA) will be hosting its fourth Annual Trophy Stall Volleyball Competition tomorrow at the PMTC hard court.
This year the BVA has invited teams from the Demerara Volleyball Association (DVA) to compete, a press release said. In addition, Achievers and the Guyana Defence Force teams have indicated that they will be participating while a ladies team from Demerara is also expected to participate.
Teams from Berbice that are expected to participate are PMTC 1, PMTC 2, Port Mourant Jaguars, 3 Door Strikers of D'Edward, Rollers of New Amsterdam, Falcons of East Canje, Albion Sports Complex and the Jets of Skeldon. The matches start at 10am.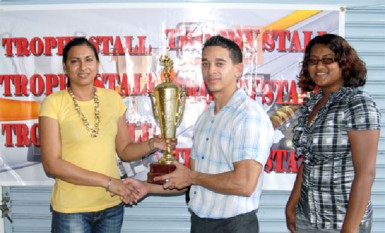 The first, second and third place teams in the men's category will receive trophies as will the first and second place teams in the ladies category. MVP trophies will be up for grabs in both categories along with medals for best setter, best spiker, best blocker, best server, best defence and best libero in both categories.
President of the Guyana Volleyball Federation John Flores and the BVA will be reviewing the performance of the Berbice players to select a squad for training to represent Berbice in the inter-association matches scheduled for later in the year.
The BVA said it was extending gratitude to sponsor Ramesh Sunich of the Trophy Stall for his unwavering support of the development of volleyball in Berbice.
Around the Web