Last year's time trial champion Raynauth Jeffrey added a second national time trial championship title to his collection yesterday.
The talented 20-year old wheelsman proved to be in top form, besting Marlon 'Fishy' Williams by six seconds on a sunny day on the Linden/ Soesdyke Highway.
Jeffrey stopped the clock on the hilly 16-mile course in 38 minutes and 36 seconds.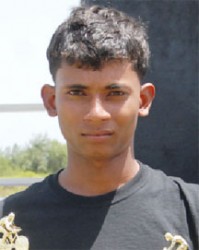 Veteran rider, Leer Nunes was third in 43m:05s after Team Alanis' Paul DeNobrega and Andre Abdool were disqualified for tagging  Jeffrey.
Jeffrey's Team Coco's club mate, Michael Anthony also repeated in the junior category. Anthony's time (40m:05s) for the 16-mile trek was quicker than Alonzo Ambrose's (43m:02s) by more than two minutes.
The other two riders, Shaquel Agard and Silvio Inniss were also disqualified for tagging Anthony.
On the distaff side, UK based Claire Fraser (28m:34s) out pedaled Toshwanna Doris (31m:55) and Crystal Lambert (32m:42s).
For the other categories, Raymond Newton (veteran) and Romello Crawford (juveniles) were the top riders.
Note: The females, veterans and juveniles rode for 10 miles.
Time Trial Results
Seniors
Raynauth Jeffrey 38:32
Marlon Williams 38:36
Leer Nunes 43:05
Juniors
Michael Anthony 40:48
Alonzo Ambrose 43:02
Veterans
Raymond Newton 24:53
Thuran Harris 26:31
Mark Sonoram 28:09
Females
Claire Fraser 28:34
Toshwana Doris 31:55
Crystal Lambert 32:42
Juveniles Romello
Crawford 25:32
Andrew Hicks 25:29
Raphael Leung 26:39
The cyclists will now turn their attention to the open road this morning to compete in the National Road Race Championships from 07:00hrs. Jeffrey is also the defending champion on the senior category. (Emmerson Campbell)