BRASILIA, (Reuters) – The World Cup served up more nerve-shredding drama with Netherlands scoring two late goals to beat shattered Mexico 2-1 and 10-man Costa Rica bouncing back from conceding a stoppage time equaliser to oust Greece on penalties yesterday.
Dutch forward Arjen Robben was at the centre of another diving controversy after he won the injury-time penalty which Klaas-Jan Huntelaar converted to hand Mexico their sixth successive second round exit in the cruelest possible manner.
Giovani Dos Santos had given Mexico the lead early in the second half in scorching conditions in Fortaleza and they appeared set to goal through until Wesley Sneijder smashed home an equaliser two minutes from time.
Mexico's fellow CONCACAF side Costa Rica also took a second half lead through Bryan Ruiz and, despite having Oscar Duarte sent off after 66 minutes, were moments from victory before Sokratis Papasthathopoulos sent the game into extra time.
The exhausted Ticos held on for a 1-1 draw and won 5-3 on penalties, making them the first CONCACAF quarter-finalists since United States in 2002.
They now face the Dutch on Saturday in Salvador.
The weather clearly affected the Dutch match which kicked off at 1300 local time in tropical Fortaleza with the temperature at 32 Celsius and humidity at 68 percent, prompting the first official water breaks of the tournament.
Conditions were made worse because a large part of the pitch was in the baking sun for much of the game and it was so hot that swathes of seats in the sun were left unoccupied.
Mexico had the best of a snail-paced first half and deservedly went ahead after the break when Dos Santos chested the ball down 30 metres from goal before firing a low left-foot shot into the bottom corner of the net.
The goal prompted another exuberant fist-pumping celebration from coach Miguel Herrera, whose energetic performances on the touchline have made him a cult figure.
Mexico were nearly home and dry when they failed to properly clear a corner and the unmarked Sneijder blasted home the equaliser.
Then, in stoppage time, Robben, who had already had two penalty claims waved away, dribbled the ball into the penalty area and drew a tackle from Mexico captain Rafael Marquez that was controversially deemed a foul.
Robben offered the ball to Huntelaar who fired home to leave the balding 30-year-old dribbling specialist in the middle of another debate over fair play.
"Three times he dived, and they didn't say anything," fumed Herrera. "If the referee was fair, their second goal wouldn't exist…because Robben would have been sent off for a second yellow card.
"But if you don't book him after the first one, then the player knows he can get away with it."
Marquez said: "I felt I touched the ground but I didn't touch him, maybe he touched me." He added that Robben told him afterwards "that it wasn't a penalty, though one of the previous (tackles) was,"
CUNNING PLAN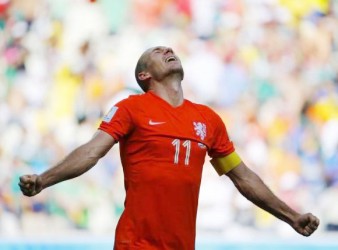 Flamboyant Netherlands coach Louis van Gaal said he cunningly used the second water break for a tactical switch.
"I moved to plan B and yes, I did that in the cooling break that is a clever way of benefiting from these breaks," he told reporters.
Costa Rica and Greece served up an unappetising first half in Recife but the game came to life after Ruiz rolled a daisy-cutter into the net from 20 metres to put the Central Americans in front in the 52nd minute.
Like Mexico, the Ticos sat back on their lead and made life even more difficult for themselves when Duarte was dismissed for a second bookable offence.
Greece huffed and puffed and finally levelled in stoppage time when Theofanis Gekas unleashed a shot that Keylor Navas parried straight into the path of Papasthathopoulos who gleefully rammed into an empty net.
Costa Rica looked broken but, after surviving extra time, they gave a lesson in penalty-taking as they converted all five attempts in the shootout while Navas saved Gekas's fourth shot for Greece.
"The confidence for the penalties was immense," said Costa Rica's Colombian coach Jorge Luis Pinto. "We knew we deserved it for the effort we had made. I don't know if the sending off was fair or not."
The round of 16 continues today with two clashes between Europe and Africa.
France face Nigeria in Brasilia (1600 GMT) and Germany take on Algeria in Porto Alegre (2000 GMT) in a rematch of their 1982 World Cup meeting.
Germany coach Joachim Loew said he knew all about the Desert Foxes, who famously beat West Germany 2-1 32 years ago.
"We know how they train, we know they have a strong French influence," he said. "We know that many of these players went to France and played and trained in the youth teams. The names may not be that familiar but the qualities certainly are."
Comments

A resurgent Guyana Amazon Warriors side completed a comprehensive seven wickets victory over the out-of-sorts St Lucia Stars to cruise to their second consecutive home win in the Caribbean Premier League (CPL) at the Guyana National Stadium, Providence, last evening.

BARCELONA,  (Reuters) – Barcelona are suing Neymar for 8.5 million euros ($10.00 million) for breach of contract as they want him to return the bonus he was paid when he signed a new five-year deal just nine months before joining Paris St Germain, the Spanish club said yesterday.
(Reuters) – Cristiano Ronaldo will have to serve his five-match ban for pushing a referee after the Spanish sports court (TAD) rejected Real Madrid's appeal against the length of the suspension, Spanish media reported yesterday citing court officials.

A 90th+3 minute strike secured Western Tigers a 1-1 draw with Georgetown Football Club (GFC), when the Corona Beer Invitational Football Championship continued on Monday at the GFC ground, Bourda.

Despite concluding the CONCACAF u15 Boys Championship with only one victory from four matches, Guyana Football Federation (GFF) President Wayne Forde said, he is delighted with the team's overall performance.