LONDON, (Reuters) – The mayhem created by an Australian firecracker the previous evening was continued in brutal fashion by Bulgarian Grigor Dimitrov today as he annihilated defending Wimbledon champion Andy Murray.
With 19-year-old Nick Kyrgios's third-round demolition of world No.1 Rafael Nadal still the talk of the town, Dimitrov caused the second seismic shock on Centre Court in the space of 24 hours by outclassing Murray 6-1 7-6(4) 6-2.
The Briton's shattering defeat means that two of the so-called Big Four in men's tennis have departed in quick succession from the grasscourt grand slam, both walloped by members of a brash new generation with scant regard for reputations.
Top seed Novak Djokovic, who was playing Marin Cilic, and seven-times champion Roger Federer, up against fellow Swiss Stanislas Wawrinka, were hoping to restore the balance later.
With cracks beginning to show at the top of the men's game, Canada's Eugenie Bouchard and Romania's Simona Halep underlined the sense of a changing of the guard in women's tennis as they both reached the semi-finals.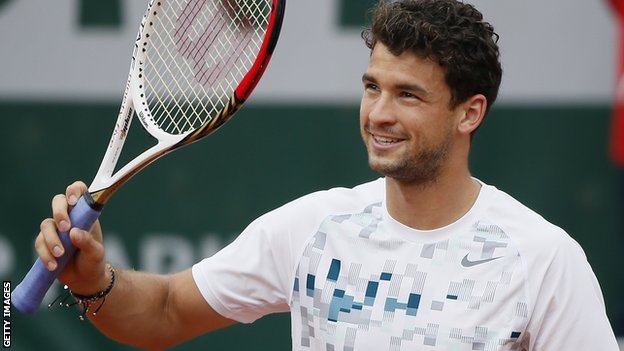 Bouchard, 20, beat Germany's Angelique Kerber 6-3 6-4 while Romanian third seed Halep, 22, continued her fantastic year to overcome last year's runner-up Sabine Lisicki 6-4 6-0.
They will face-off on Thursday, when both will become the first women from their respective countries to play in a Wimbledon semi-final.
Canada, apparently the new force in North American tennis after the poor showing by the United States at the All England Club, could have a second semi-finalist if Milos Raonic steals the thunder of Nadal's slayer Kyrgios.
DISBELIEF
A growing sense of disbelief settled over Centre Court and outside on the hill, where thousands had assembled to watch on the huge screen, as Murray's imperious charge towards a second consecutive title came off the rails in spectacular fashion.
Murray had looked impeccable on his way to the quarter-finals, not dropping a set and wasting little energy, but 25 minutes after starting against 23-year-old Dimitrov he was already a set down and in deep trouble.
Such was the quality of the 11th seed's tennis that Murray could have been excused for thinking it was Federer in his prime on the other side of the net.
Since winning the junior title at Wimbledon, Dimitrov has been saddled with comparisons to the Swiss maestro, given his smooth movement and elegant strokes, but until last year his real talent had not burst through.
With coach Roger Rasheed and girlfriend Maria Sharapova now in his corner, however, Dimitrov now looks ready to jump the queue of those waiting to get their hands on some major silverware – and few would bet against it happening here.
"Dimitrov is in a semi-final and he will say, why can't I beat Federer or Djokovic and win the title?" former champion Jimmy Connors, who was commentating for the BBC, said of the player who won the Queen's Club grasscourt title last month.
"He played spectacular tennis today. It won't get easier, so he has to lift his level again. I don't think he is just satisfied with being in the semi-final."
The crowd, which included Prince William and the Duchess of Cambridge, did their best to lift Murray after a torrid start, but he was clearly having a very bad day at the office.
He briefly threatened to turn the tide when he recovered from a break down in the second set to take it into a tiebreak, but Dimitrov rose to the challenge and played two breathtaking points from 4-4.
Murray netted a backhand on set point down and any repeat of his comeback from a two-set deficit at the same stage last year against Fernando Verdasco evaporated in the third set as the champion was clinically picked apart by Dimitrov.
"As soon as we started warming up I sensed his game was not at the highest level and I was feeling good," said the Bulgarian after ending Olympic champion Murray's 17-match winning streak at the home of lawn tennis.
"I held my ground through and the tiebreak was crucial."
While Dimitrov will contest his first grand slam semi-final, Bouchard will be appearing in her third this year and the new golden girl of tennis is determined to go at least one better than she did at the Australian and French Opens.
Attacking relentlessly against one of the best defenders in the game, she seized control from 3-3 in the first set and feasted on the Kerber serve, belting winners for fun in the sun.
"Yeah, I'm excited to be in the semis," she told reporters. "But never satisfied. I definitely want to go a step further."
Comments
Colts secured wins over Kobras and Plaisance Guardians in the Open and U-23 Divisions, respectively, when the Georgetown Amateur Basketball Association (GABA) League Championship continued on Sunday, at the Burnham Court, at Carmichael and Middle streets.

LONDON, (Reuters) – The gradual decline of West Indian cricket is hardly a new phenomenon but the latest capitulation of a once-dominant test match power has brought genuine expressions of sadness throughout the sport.

LONDON, CMC – The fallout from West Indies' humbling innings defeat to England in the opening Test weekend has continued with several of the Caribbean players slumping in the latest International Cricket Council rankings.
Upper Demerara Football Association (UDFA) and Essequibo/Pomeroon Football Association secured easy wins when the UDFA GT Beer Inter-Association Championship continued on Sunday, at the Mackenzie Sports Club ground, Linden, UDFA downed East Coast Football Association 3-1.

(Reuters) – England's Stuart Broad wants to play in the home Ashes series against Australia in 2019, the paceman has said after passing Ian Botham to take second place on the country's all-time list of test wicket-takers.