Nicola Ramdyhan and Anthony Downes took the respective Ladies and Men's Singles titles when the Guyana Lawn Tennis Association (GLTA)/ Guyana Bank for Trade and Industry (GBTI) Open Tournament concluded on Friday night at the GBTI Recreational Facility in Bel Air. Ramdyhan defeated Shawna Gentle 6-3, 1-6, 6-3; while Downes defeated Phillip Squires 6-2, 6-4.
On her way to claiming her second consecutive Ladies Open title, Ramdyhan played an aggressive first game. But Gentle belied her name to go ahead 2-0. Ramdyhan, the former junior girls' champion settled and gained a 4-2 lead.
Gentle was definitely not going to allow her younger counterpart to claim an early win and was a force to reckon with in the second set, which she claimed 6-1. Fierce serves and volleys offered spectators a treat as both Ramdyhan and Gentle stepped up their game. However, after Ramdyhan rallied to a 4-3 lead in the deciding set, she remained focused to win the set 6-3.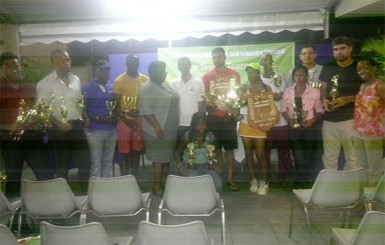 In a post-match interview with Stabroek Sport, Ramdyhan said she was happy and relieved to win the title. "The first set was very fast and more aggressive because both of us were fresh and eager to play…. In the second set I was very complacent and Gentle made use of my unforced errors, while in the third I was more aggressive than the first because I had to work harder to win," she said.
Ramdyhan, who was scheduled to leave Guyana shortly after the game for Jamaica where she will play in a junior invitational tournament, said she was very nervous before the match. "…I knew I had to play my best to be victorious because I'm acquainted with my opponent's ability," Ramdyhan stated. The 16-year-old former St Joseph High student is looking to a successful run in Jamaica.
Gentle, who is among the celebrated in the tennis fraternity, has accolades including Nigel's Supermarket 14's and 18's Mixed Doubles (with Daniel Lopes) and Girls Doubles (with Aruna Ramrattan); Pegasus Open 14's, 18's and Ladies and GBTI 18's. She said this title remains the only one that continues to elude her. The former junior champion who came out of retirement to compete in her first tournament in more than a year said it was her first defeat to Ramdyhan in more than 10 meets.
The 20-year-old Gentle who endured fatigue and pain from a minor ankle injury throughout the tournament said she is considering making a full return, which will mean constant training and participation in various tournaments.
In the men's final, Anthony Downes made light work of Phillip Squires, defeating him 6-2, 6-4 in two sets. Like Gentle, Squires also returned to tennis after a year's absence.
Friday's win was Downes' third consecutive one against Squires in their three meets and he said he had anticipated playing Squires since he was a junior. He said he can now rejoice after claiming three titles (Mixed Doubles with Rebecca Mitchell, Men's Doubles with Jason Andrews and Men's Singles) in one tournament for the first time.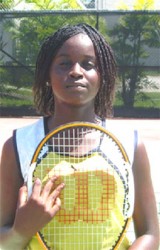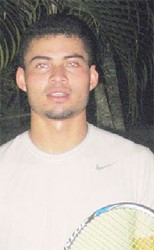 According to the tournament coordinators and sponsors, it was a very competitive period but there are still areas in the sport that can be developed. Speaking at the closing ceremony, President of the GLTA Grace McCalman thanked GBTI for its continuous support to tennis development. McCalman who was elected to the helm of the GLTA earlier this year said she was amazed at the quality of tennis played throughout the tournament especially in the novice category. CEO of GBTI John Tracey congratulated the GLTA for hosting a successful tournament though he believes more can be done for the sport. Tracey, who was disappointed at the media coverage throughout the tournament, made reference to how regional and international sports promotion is done and said he believes the same can be done locally.
As the GLTA prepares to host the Inter Guiana Games, Tracey gave the association the permission to use the GBTI facility during that period.
Comments

Guyana Amazon Warriors completed a last over four- wicket victory over the Barbados Tridents to keep their chances of qualifying for the playoffs alive in this edition of the Caribbean Premier League (CPL) on the back of opener, Chadwick Walton at the Guyana National Stadium, Providence, last evening.

LONDON, CMC – West Indies part-time off-spinner Kraigg Brathwaite has been reported to the International Cricket Council for having a suspect bowling action, following the Caribbean side's humbling innings and 209-run defeat at Edgbaston here Saturday.

BIRMINGHAM, England,  CMC – Under-fire West Indies captain Jason Holder has urged his players not to lose confidence despite their embarrassing innings defeat inside three days in the day/night opening Test at Edgbaston.
(Reuters) – Spanish fourth seed Garbine Muguruza played flawlessly to crush Simona Halep 6-1 6-0 in a one-sided women's final at the Cincinnati Open yesterday.

Future Stars continued their meteoric rise on the 'street football circuit', defeating Back Circle 1-0 to clinch the 3rd Annual Xtra Beer 'Ballers in the Summer' Street Football Championship on Saturday.