In an extraordinary display of speed and stamina, Team Alanis' Paul DeNobrega took the spoils of the 5th annual CARICOM 50-mile road race with a wire-to-wire win yesterday at West Demerara.
DeNobrega who never trailed in the event which rolled off at Wales, proceeded to Bushy Park and ended at Schoonord, took pole position in a brisk one hour, 52 minutes and 56 seconds.
More than two minutes superior to last year's winning time (1:55:04) recorded by yesterday's second place finisher, Robin Persaud.
Marlon 'Fishy' Williams completed the podium while Michael Anthony, Mark Harris and a resurgent Enzo Matthews filled out the top six positions.
Williams and Matthews however pocketed two sprint prizes each while one apiece went to DeNobrega, Persaud, Anthony and Raymond Newton.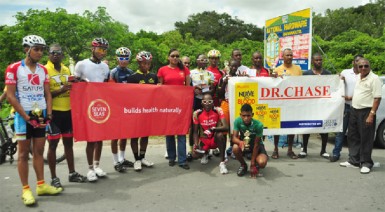 The Seven Seas and Dr. Chase's Joint Care-sponsored road race started off at a fast clip with the 42 starters jostling for the lead.
On the upward journey at the Vreed-en-Hoop junction however the top six riders broke away from the rest of the peloton.
The strong six-man unit then worked in tandem to separate themselves from the chase packs.
Team work was on full display as with every mile that passed and every powerful turn of their pedals, the leader's advantage continued to balloon despite the valiant efforts of the riders in pursuit.
But team riding would expectedly be thrown out the window.
With about 300m from the end and the finish line in sight, a fierce sprint to the line ensued.
Harris rolled up the sprint, Anthony and the others pursued but DeNobrega had enough left in the tank and powered across the line for victory.
(Emmerson Campbell)
Quick Results
Seniors 
Paul DeNobrega 1:52:56
Robin Persaud
Marlon Williams
Michael Anthony
Mark Harris
Enzo Matthews
Juniors
Michael Anthony
Raul Leal
Alonzo Ambrose
Mountain Bikes 
Ozia McAlley
Emmanuel Gayraul
Julio Melville
Veterans 
Wasim Hasnoo
Ralph Williams
Shameer Baksh
Veteran 0-60 Years 
Monty Parris
Females
Toshwanna Doris
Comments

On the back of recent sublime form, Hamza Eastman continued his victorious ways yesterday.

Top cyclist Michael Anthony was a double winner yesterday as the first stage of the 17th annual three-stage memorial cycle road race in memory of former Guyana president Dr Cheddi Jagan concluded in West Demerara.
The cream of the nation's wheelsmen will once again turn the roadways of West Demerara into their battleground today when Hassan Mohamed continues his cycling calendar.

United Cycle Club's (UCC) Albert Philander held off a strong challenge from national road race champion Raynauth Jeffrey of Team Coco to win the feature 35-lap event at yesterday's National Sports Commission (NSC) sponsored 11-race cycle programme in the National Park.

Robin Persaud powered to his third win of the season yesterday, outsprinting fellow national rider Orville Hinds in the 4th annual Seven Seas Multivitamins and Dr.