Guyana's six-man powerlifting team will all return with medals from the North American and Caribbean Powerlifting Championships which concluded on Saturday in St. Croix, USVI.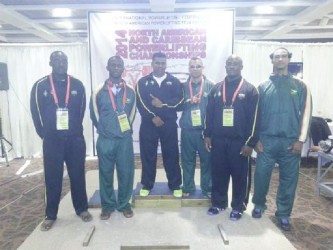 Osmond Mack (74 kg) Germaine Snagg (83 kg) and Marino Jeffrey (93 kg) snared gold medals, Paul Adams (74 kg) and Karel Mars (105 kg) took silver medals and Erwyn Smith (83 kg) lifted bronze at the three-day championships which was held at the Renaissance Carambola Beach Resort and Spa.
According to information coming out of the island, Jeffrey squatted 628 lbs, bench pressed 363 lbs and deadlifted 500 lbs for a total of 1491 lbs to take the spoils of his class while Snagg totaled 1375 lbs. His best lifts were 511.5 lbs (squat), 341 lbs (bench press) and 528 lbs (deadlift).
Smith's total was 1314 lbs (484 lbs, 275 lbs and 561 lbs). Second place was Puerto Rican, Jose Matos with a total of 1342 lbs.
Mars' total was 1826 lbs while Mack and Adams lifted 1408 lbs and 1391 lbs respectively.
Guyana's men were team champions last year but was second to Puerto Rico in St. Croix. Trinidad and Tobago finished third.
Comments
Colts secured wins over Kobras and Plaisance Guardians in the Open and U-23 Divisions, respectively, when the Georgetown Amateur Basketball Association (GABA) League Championship continued on Sunday, at the Burnham Court, at Carmichael and Middle streets.

LONDON, (Reuters) – The gradual decline of West Indian cricket is hardly a new phenomenon but the latest capitulation of a once-dominant test match power has brought genuine expressions of sadness throughout the sport.

LONDON, CMC – The fallout from West Indies' humbling innings defeat to England in the opening Test weekend has continued with several of the Caribbean players slumping in the latest International Cricket Council rankings.
Upper Demerara Football Association (UDFA) and Essequibo/Pomeroon Football Association secured easy wins when the UDFA GT Beer Inter-Association Championship continued on Sunday, at the Mackenzie Sports Club ground, Linden, UDFA downed East Coast Football Association 3-1.

(Reuters) – England's Stuart Broad wants to play in the home Ashes series against Australia in 2019, the paceman has said after passing Ian Botham to take second place on the country's all-time list of test wicket-takers.