U-15 team's all-round abilities can seal victory
- Moore
National Under-15 cricket coach Julian Moore is optimistic about his team chances of winning this year's Regional tournament after a 16-year absence from the top position.
Stabroek Sport caught up with Moore on Tuesday at the Guyana National Industrial and Commerce (GNIC) ground, where he was conducting the final training session with his team before they broke camp. He is bullish on the team's prospects as they have responded well to training in the tactical, mental, technical and physical aspects of their drill.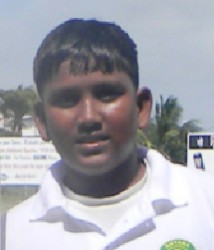 The squad, which underwent a six-day training camp which started last Thursday and ended Tuesday, will depart Guyana tomorrow to commence play in Jamaica on Tuesday. They assembled at the National Gymnasium for physical training in the morning, the Guyana Cricket Board (GCB) Hostel at La Bonne Intention, the GNIC ground for the technical and mental preparation and the Enmore Community Development Centre Ground for tactical drilling.
According to Moore who coached the President's XI during the GCB under-15 competition, while the weather hampered some outdoor activities the team got sufficient practice with the facilities that were available to them. Besides, most of the players would have been involved in cricket matches at their respective clubs before encampment so the encampment focused more on promoting camaraderie. The coach is convinced that his team's batting ability is its winning skill, though he noted that their all-round ability is also at an apex. "There are very talented players in this squad, however, getting each to understand their role and being prepared mentally before departure are the biggest challenges," he said. However, Moore praised the selection panel for their choice of team. The coach also praised team captain Bhaskar Yadram who will be representing Guyana for a third consecutive year at this level and who has been named team captain. "He's by far our most experienced player and he is doing well, he's always willing to share what he has learnt," Moore said.
Yadram is also an opening batsman who was among the top run-getters during the inter-county competition. Moore further said that the captain understands his personal role and can combine his runs aggregate and his leadership qualities to ensure Guyana claims its second title at this level.