An unbeaten half-century from opener Martin Guptill reinforced by Krishmar Santokie's four wickets steered the Guyana Amazon Warriors to a comfortable 9-wicket win over the St Lucia Zouks last evening in match seven of the 2014 Limacol Caribbean Premier Tournament (LCPL) T20 tournament.
Thrilling a hyped crowd at the Guyana National Stadium Providence, Guptill smoked a classy 50 from 47 deliveries featuring three sixes and two fours. He shared a vital opening stand of 76 with Lendl Simmons who struck a brisk 36. Mohammed Hafeez was unbeaten on 17, as the Warriors chased down their target of 117 with ease ending on 118 for 1 in 16 overs. The Warriors have now recorded their third consecutive win of the competition.
Santokie, the West Indies T20 specialist operated with precision and potency, snaring 4 for 11 from his four overs. He found support from Thursday's hero Sunil Narine who ended with 2-21. Veerasammy Permaul, Ronsford Beaton and Jimmy Neesham chipped in with a wicket each.
Batting for the St Lucia Zouks, Sohail Tanvir was the standout batsman with a 25-ball 32 inclusive of three fours and a six. Mervin Mathews's cameo of 21 runs off 10 deliveries featured a four and two sixes, one of which broke a window. Apart from those knocks Johnson Charles (13), Sunil Ambris (13) and Keddy Lesporis (11) were the only other batsmen to reach double figures as the Zouks were restricted to 117 in 19.1 overs.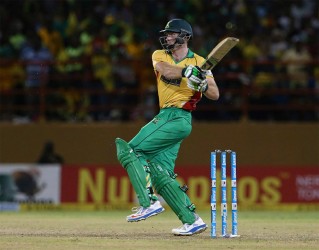 Chasing 117 runs from 120 legitimate deliveries, the Amazon Warriors took an early attack to the Zouks. Guptill first clobbered Tino Best for a massive six over long-on. He followed up a few overs later with a straight six off Mathew. Simmons got into the action by muscling the off-spinner Shillingford for a six over the on-side region.
Sammy then pulled things back slightly after knocking over Simmons in the 10th over, but Guptill and Hafeez anchored the ship, picking apart the opposition bowlers with savage blows peppered with classy dabs and nudges around the field.
The nail in the coffin came when Guptill smashed Tanvir for a six followed by a single which raised a well-constructed half-century and took the Warriors over the ropes with 24 balls to spare.
Earlier, after winning the toss and electing to field in somewhat good bowling conditions, the Warriors made a meal of the Zouks top order. First to go was Henry Davids (4) who was bowled by Santokie. He was followed by West Indies T20 opener Andre Fletcher (4) who was caught by Neesham giving Santokie his second wicket. The aggressive Johnson Charles (13) has his stumps knocked over by Permaul. Keddy Lesporis (11) was run out courtesy of tag team work from Hafeez and Guptill leaving the visitors reeling at 34 for 4 in the 7th over.
A hostile looking Beaton then castled the stumps of Roelof van Der Merwe (6). Narine ripped the heart out of the Zouks fans when he had their beloved captain Sammy (2) caught by Barnwell at long-on as they teetered at 58 for 6.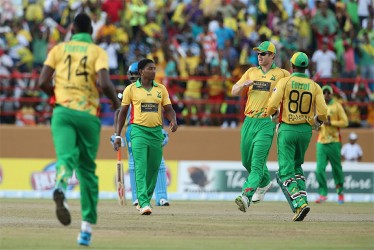 A steadying of the ship was attempted by Tanvir and Ambris who offered some resistance. But Neesham, who held a tight line in his first over had the latter comprehensively bowled after attempting a pull shot, only managing to find the thick inside edge of the bat which was dragged onto the stumps.
Narine struck again this time removing off-spinner Shane Shillingford LBW for a duck. Tanvir then launched Neesham for the first six of the Zouks innings, a hefty smack over the mid-wicket region. Guptill then once again displayed his unmatched athleticism when he pulled off a diving catch in the deep to remove Tanvir courtesy of a slower delivery from Santokie.
The last man to go was Mathew, who dealt a few lusty blows before he held out to Guptill on the first ball of Santokie's last over, leaving Tino Best stranded on 3.
SCOREBOARD
ST LUCIA ZOUKS
J Charles b Permaul                                          13
H Davids b Santokie                                            4
+A Fletcher c Neesham b Santokie                  4
K Lesporis run out                                             11
S Ambris b Neesham                                        13
R van der Merwe b Beaton                               6
*D Sammy c Barnwell b Narine                      2
Sohail Tanvir c Guptill b Santokie                32
S Shillingford lbw b Narine                             0
M Mathew c Guptill b Santokie                     21
T Best not out                                                     3
Extras (lb1, w7)                                          8   
TOTAL (all out, 19.2 overs)  117
Fall of wickets: 1-6 (Davids, 1.3 overs), 2-16 (Fletcher, 3.4), 3-29 (Charles, 5.3), 4-34 (Lesporis, 6.4), 5-52 (van der Merwe, 9.4), 6-58 (Sammy, 11), 7-79 (Ambris, 14.4), 8-80 (Shillingford, 15.4), 9-94 (Sohail Tanvir, 17.1), 10-117 (Mathew, 19.2)
Bowling: Mohammad Hafeez 4-0-24-0 (w1), Santokie 3.2-0-11-4, Permaul 3-0-15-0, Narine 4-0-21-2 (w2), Beaton 3-0-30-1 (w1), Neesham 2-0-15-1 (w1).
AMAZON WARRIORS
L Simmons b Sammy                                       36
M Guptill not out                                              50
Mohammad Hafeez not out                            17
Extras (b4, lb10, w1)                                 15    
TOTAL (1 wkt, 16 overs)                         118
Did not bat: L Johnson, *+D Ramdin J Neesham, C Barnwell, S Narine, V Permaul, K Santokie, R Beaton
Fall of wickets: 1-76 (Simmons, 9.1 overs)
Bowling: Best 4-0-20-0, Sohail Tanvir 4-0-28-0, Mathew 1-0-17-0, Shillingford 3-0-17-0 (w1), van der Merwe 2-0-14-0, Sammy 2-0-8-1.
Result: Guyana Amazon Warriors won by nine wickets.
Points: Guyana Amazon Warriors 2, St Lucia Zouks 0.
Man-of-the-Match: Krishmar Santokie.
Toss: Guyana Amazon Warriors.
Umpires: Patrick Gustard, Peter Nero; TV – Nigel Duguid
Comments

A resurgent Guyana Amazon Warriors side completed a comprehensive seven wickets victory over the out-of-sorts St Lucia Stars to cruise to their second consecutive home win in the Caribbean Premier League (CPL) at the Guyana National Stadium, Providence, last evening.

BARCELONA,  (Reuters) – Barcelona are suing Neymar for 8.5 million euros ($10.00 million) for breach of contract as they want him to return the bonus he was paid when he signed a new five-year deal just nine months before joining Paris St Germain, the Spanish club said yesterday.
(Reuters) – Cristiano Ronaldo will have to serve his five-match ban for pushing a referee after the Spanish sports court (TAD) rejected Real Madrid's appeal against the length of the suspension, Spanish media reported yesterday citing court officials.

A 90th+3 minute strike secured Western Tigers a 1-1 draw with Georgetown Football Club (GFC), when the Corona Beer Invitational Football Championship continued on Monday at the GFC ground, Bourda.

Despite concluding the CONCACAF u15 Boys Championship with only one victory from four matches, Guyana Football Federation (GFF) President Wayne Forde said, he is delighted with the team's overall performance.