(Reuters) – Three days after losing one of the National Basketball Association's best young players on the free agent market, the Indiana Pacers gained a welcome boost by signing seven-year league veteran Rodney Stuckey yesterday.
Though Stuckey lacks the all-round talent of fellow shooting guard Lance Stephenson, who opted to leave the Pacers for more money with the Charlotte Hornets, he will certainly give Indiana plenty of athleticism and vigour. "Rodney is a very talented player who can create and score in a variety of ways," Pacers president of basketball operations Larry Bird said in a statement.
"We're very happy to get a player with his experience and who has made it very clear of his desire to win."
Stuckey, a 28-year-old who has averaged 13.4 points per game in seven NBA seasons with the Detroit Pistons, is looking forward to a fresh start in Indiana and the chance to compete much more regularly in the playoffs.
"I want to win; I want to go to the playoffs," Stuckey told reporters at Bankers Life Fieldhouse after signing a one-year contract with the Pacers.
"It's not fun having the whole summer to do nothing," said the 6-foot-5, 205-pound guard who reached the playoffs in only his first two seasons with the Pistons. "I just want to play basketball. This is a good opportunity to come and do that. It's a fresh start and I'm excited for it."
HEAD SCRATCHER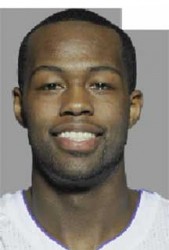 While Bird welcomed the arrival in Indiana of Stuckey, he is still scratching his head over the departure last week of Stephenson, a richly talented 23-year-old who was selected by the Pacers as the 40th overall pick in the 2010 NBA draft.
"I really feel bad about losing him," Bird told The Indianapolis Star on Monday. "I hope it doesn't interfere with our relationship. But I did what I could possibly do to keep him here.
"Even if he didn't have any other offers, I was committed to giving him that $44 million because I believe in the kid."
Stephenson turned down a five-year, $44 million contract with the Pacers and accepted a deal with the Hornets that guarantees him two years and $18 million, along with a team option for the third year.
"It's just disappointing," Bird said. "When I'd go to practices, when he (Stephenson) was on, he was by far our best player. And he worked. If you work as hard as he does, you're going to get better
"I'm going to miss the kid, no question. And he's growing up … I knew how good Lance was and the value he brought to our team."
The Pacers, beaten by the Miami Heat in the Eastern Conference Finals for the past two seasons, still possess a well-balanced starting lineup which includes All-Star Paul George, Roy Hibbert, David West and veteran George Hill.
Comments

HARARE, Zimbabwe, CMC – West Indies sneaked into next year's World Cup in England but just barely, as heavy rain coupled with a controversial umpiring decision, helped them beat Scotland by five runs under Duckworth-Lewis-Stern, and stage a great escape in their final Super Six match of the ICC World Cup Qualifiers here yesterday.

Nine months after successfully hosting the South American U-20 Championships, a delegation is readying to present a bid to the North American, Central Amer-ican and Caribbean Athletics Association (NACAC) to host the CARIFTA Games for the first time on these shores.

Top Brandz Distributors will team up with the Guyana Rugby Football Union (GRFU) for the first time under their Hairoun Beer-brand in support of the union's season opener on Saturday at the National Park.

The Guyana Table Tennis Association (GTT) is appealing for corporate support to assist it participate at this year's Caribbean Junior and Cadet Table Tennis Championships  in Havana, Cuba from April 2-8.

After the resounding success of the first three seasons of the Americas Rugby Championship, the continent will inaugurate a new performance tournament for countries in Sudamérica Rugby and Rugby Americas North.