LONDON, (Reuters) – Ishant Sharma claimed seven wickets to bowl India to a 95-run victory over England in the second test at Lord's yesterday, their first overseas win since 2011.
India's second victory at the home of cricket and first since 1986 continued England's miserable year after series defeats by Australia and Sri Lanka.
Resuming at 105 for four in pursuit of 319, Joe Root and Moeen Ali survived until the final ball before lunch when the latter fell to Sharma.
The willowy right-armer claimed four more wickets after the break as England's batsmen capitulated in the face of India's short-pitched barrage and were bowled out for 223, putting the visitors 1-0 up in the five-match series.
Sharma finished with career-best figures of 7-74, including five wickets in 33 balls.
"It was fantastic to see the effort and determination the guys showed. A very memorable game of cricket for us," India captain Mahendra Singh Dhoni told reporters.
"I feel every game is important, but yes, it feels good to win test matches outside India, and being Lord's it is very special, but at the same time, every test match is special for us."
Root and Moeen had earlier given hope of an unlikely home victory, having come together with England in trouble at 72 for four midway through Sunday's evening session.
SHARMA BRUTE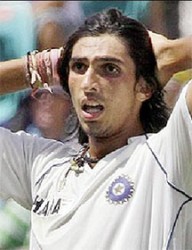 They added a further 68 runs yesterday morning before Moeen, who batted for a day to nearly save the second test against Sri Lanka at Headingley last month, fell to a brute of a delivery from Sharma which forced him to fend off to Cheteshwar Pujara at short leg.
Root and Prior came out after lunch bristling with intent, hitting 20 runs in the first two overs after play resumed as Mohammed Shami and Sharma offered a procession of short balls.
Dhoni's plan paid dividends shortly afterwards, however, when Prior, who has endured a poor run both behind the stumps and with the bat, hooked Sharma to Vijay at deep mid-wicket for 12.
Ben Stokes completed a pair in the match, mis-hitting Sharma to Pujara at mid-on and Root went the same over for 66, caught by Stuart Binny after another poor hook shot.
Sharma claimed his fifth victim of the day and seventh of the innings when he had Stuart Broad caught down the legside by Dhoni.
James Anderson was last to fall, run out by Ravindra Jadeja, with whom he clashed during the drawn first at Trent Bridge, an incident which left both players facing misconduct charges.
"It is a tough defeat at Lords, the home of cricket and we have to give India a lot of credit. They out bowled and out batted us and that's why they deserved to win," England skipper Alastair Cook said.
"In our last innings the pitch was tuning and bouncing, that evened it up a little. But it was a good toss to win and we didn't put ball in right areas enough first day, though India left very well, so they have to take a bit of credit for that."
The third test starts in Southampton on Sunday.
Scoreboard
India first innings 295 all out
England first innings 319 all out
India second innings 342 all out
England second innings (overnight 105-4)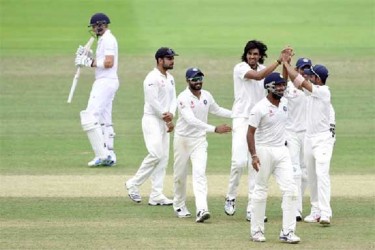 S. Robson lbw Jadeja                                 7
A. Cook c Dhoni b Sharma                    22
G. Ballance c Dhoni b Shami                27
I. Bell b Sharma                                           1
J. Root c Binny b Sharma                     66
Moeen Ali c Pujara b Sharma              39
M. Prior c Vijay b Sharma                     12
B. Stokes c Pujara b Sharma                   0
L. Plunkett not out                                     7
S. Broad c Dhoni b Sharma                     8
J. Anderson run out                                  2
Extras: (w-1 nb-2 b-13 lb-16)                32
Total: (all out, 88.2 overs)                    223
Fall of wickets: 1-12, 2-70, 3-71, 4-72, 5-173, 6-198, 7-201, 8-201, 9-216, 10-223
Bowling: Kumar 16-7-21-0, Shami 11-3-33-1, Sharma 23-6-74-7 (nb-2), Jadeja 32.2-7-53-1, Vijay 4-1-11-0 (w-1), Dhawan 2-0-2-0
Comments

A resurgent Guyana Amazon Warriors side completed a comprehensive seven wickets victory over the out-of-sorts St Lucia Stars to cruise to their second consecutive home win in the Caribbean Premier League (CPL) at the Guyana National Stadium, Providence, last evening.

BARCELONA,  (Reuters) – Barcelona are suing Neymar for 8.5 million euros ($10.00 million) for breach of contract as they want him to return the bonus he was paid when he signed a new five-year deal just nine months before joining Paris St Germain, the Spanish club said yesterday.
(Reuters) – Cristiano Ronaldo will have to serve his five-match ban for pushing a referee after the Spanish sports court (TAD) rejected Real Madrid's appeal against the length of the suspension, Spanish media reported yesterday citing court officials.

A 90th+3 minute strike secured Western Tigers a 1-1 draw with Georgetown Football Club (GFC), when the Corona Beer Invitational Football Championship continued on Monday at the GFC ground, Bourda.

Despite concluding the CONCACAF u15 Boys Championship with only one victory from four matches, Guyana Football Federation (GFF) President Wayne Forde said, he is delighted with the team's overall performance.