Prime Minister, Samuel Hinds formally declared the XX Inter Guiana Games (IGG) opened yesterday following a colourful ceremony at the Cliff Anderson Sports Hall (CASH).
Hinds spoke of the bond of sport which has united the host, Suriname and French Guiana and noted that "he looks forward to a close relationship for years to come."
"We look forward to a close relationship for years to come and it's important that each athlete goes out there to win.
But we must compete fairly and it gives me great pleasure to declare the 2014 Inter Guiana Games open".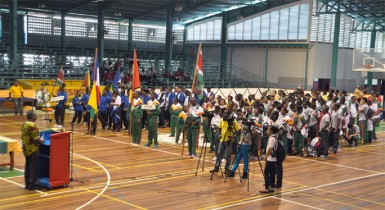 The Prime Minister then welcomed the delegation from the two visiting countries and wished the Games a success.
Brief remarks were also made by Deputy Permanent Secretary of the Ministry of Sport, Alfred King, heads of the Suriname and French Guiana delegations along with Director of Sport, Neil Kumar.
The Guyana Police Force band also added to the start of the tri-nation event.
While the visitors had a rousing welcome, the host contingent, dressed in the traditional attire and walking under the Golden Arrow Head, understandably got a deafening reception.
The first of three legs of the annual competition started yesterday with two basketball games following the opening ceremony.
In the first encounter, the female French ballers routed their Surinamese opponents 62-41. However, their male countrymen were defeated by Guyana, 79-68.
Swimming will be held today at the National Aquatic Centre from 09:00hrs.
The Games which concludes tomorrow with the closing ceremony at the CASH, will also see the nation's best track and field athletes competing for hardware today and tomorrow at the Camp Ayangana ground simultaneously with Swimming.
The second and third legs of the annual fixture is set for Suriname in October and French Guiana in November or December.
Comments

Guyana Amazon Warriors left a packed house heartbroken after folding to the Jamaican Tallawahs by two runs in a thrilling final over, as they began their home leg of this year's Caribbean Premier league (CPL) with a school boyish display, last evening at the Guyana National Stadium, Providence.

DUBAI, England, CMC – Reigning champions West Indies Under-19s will be part of history, when they kick off their title defence of the ICC Youth World Cup (YWC) against hosts New Zealand Under-19s.

Guyana ended their Group-F campaign in the CONCACAF Boys U15 Championship on a winning note, edging St.

BIRMINGHAM, England, CMC – A day that started brightly ended in typical uncertainty for West Indies, after Alastair Cook and Joe Root plundered hundreds to give England an early hold on the historic first Test on Thursday.
BASSETERRE, St. Kitts, CMC – A strong all-round performance from Javeor Royal propelled Jamaica Under-19s to a four-wicket victory over ICC Americas Under-19s in the Regional One-day youth tournament on Thursday.