Team Guyana sits atop the medal table following the first of two days of track and field action in the XX Inter Guiana Games (IGG).
Usual suspects Kevin Abbensetts, Tevin Garraway, Jason Yaw, Avon Samuels, Jevina Sampson, Cassey George and lesser celebrated athletes helped Guyana to run away with 20 medals (11 gold) on a day of intermittent showers at the Camp Ayangana Ground yesterday.
Outstanding performances by field event athlete, Natricia Hooper also ensured that Guyana went into today's final day with a 36 point lead (200-164) ahead of Suriname.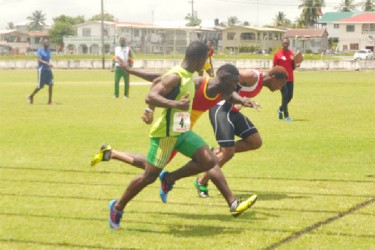 French Guiana is not competing in the track and field segment in the first leg of the U-20 tri-nation Games.
The highlight of yesterday was the boys 100m dash which saw last year's champion, Abbensetts (10.5s) upsetting Garraway in a controversial photo finish.
The event was a dead heat and the officials somehow saw Suriname's Romario Pansa (10.6s) sprinting in second followed by Garraway (10.7s).
Another close finish was the girls 400m which brought the crowd to its feet as locals Avon Samuels and Jevina Sampson took gold and silver in a close finish.
Suriname's quarter miler, Carine Savion was third
CARIFTA and CAC 400m bronze medalist, Jason Yaw turned on the jets in the boys 400m with a killer finishing kick to repeat as champion in 49.6s.
Second and third place went to Suriname's Uracio Seedrop and Miguel Shepper after Guyana's Quacy Simpson was disqualified for a false start.
The local men secured gold in the 4×100 as did their female teammates.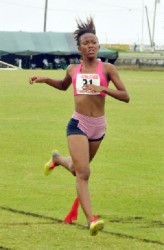 George, a three-time CARIFTA Games gold medalist, added more hardware to her collection after cruising to victory in the girls 1500m final.
Day 2 will be highlighted with the 200m, 800m, 3000m, 5000m and the 4x400m relays. (Emmerson Campbell)
Day 1 Summary
Triple Jump male
Dave Pika (Sur), Clifton Olymph (Sur), Clarence Green (Guy)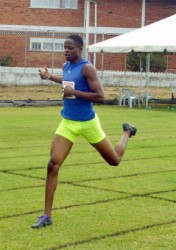 Triple Jump female
Natricia Hooper (Guy), Deborah Galong (Sur), Zoiny Nibnon (Sur)
Girls High Jump
Natricia Hooper (Guy), Deborah Galong (Suri), Irie Cadogan (Guy)
Boys Javelin Throw
Jason David (Sur), Tramaine Beckles (Guy), Clarence Green (Guy)
Girls 100m Dash
Shoquane Daniels (Guy), Sabrina Menso (Sur), Deokoe Chivingo (Sur)
Boys 100m Dash
Kevin Abbensetts (Guy), Romario Pansa (Sur), Tevin Garraway (Guy)
Boys High Jump
Kade Pearce (Guy), Jabari Joseph (Guy), Tumane Doekoe (Sur)
Girls Javelin throw
Charissa Douglas (Sur), Sebea Skeenbeig (Sur), Trystol McAllister (Guy)
Girls 400m
Avon Samuels (Guy), Jevina Sampson (Guy), Carine Pavion (Sur)
Boys 400m
Jason Yaw (Guy),Uracio Seedrop (Sur), Miguel Shepper (Sur)
Girls 1500m
Cassey George (Guy), Andrea Foster (Guy), Esminalda Amania (Sur)
Boys 1500m
Ornesto Thomas (Guy), Grivon Grant (Guy), Gybuto Alaechoetoe (Sur)
Girls 4x100m
Guyana gold, Suriname silver
Boys 4x100m
Guyana gold, Suriname silver
Around the Web