The 2014 Senior Body- building Champion-ships is a wrap.
Reigning Mr. Guyana, Kerwin 'Chisel' Clarke has succeeded in his first title defense.
Clarke was pushed to the edge by Godfrey Stoby Saturday night at the Theatre Guild but the champ held on for the win in the light middleweight category. It was a battle of champion versus perennial runner up. Both men were conditioned, both had plenty of muscle, and both had the large crowd's support.
Clarke was in shape and brought the striated quads, horse shoe triceps and barn door back we have come to expect.
Stoby brought a bigger and shredded lower body, correcting that flaw he had last year and the two musclemen were compared on stage three times on Saturday. In the end, 'Chisel's' structure, shape, and balance were enough to carry him through to victory.For Stoby, it was his best ever Mr. Guyana showing. From the back he was downright freaky, but from the front and side, his crazy muscles were just outmatched by Clarke's fullness, detail and symmetry.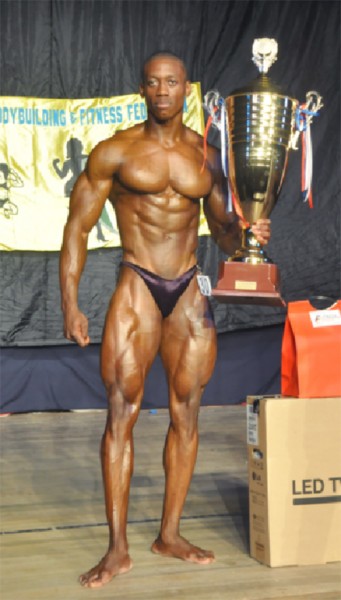 In his first Mr. Guyana, Sylvester Andrews was the surprise of the show in taking second place overall.
Andrews who won the Novices championship in March, brought his best ever conditioning to compliment his superior shape and symmetry.
The dreadlocked welterweight mass of striated muscle is the quickest rising star on the local bodybuilding scene and a threat for the title in years to come.
Third went to the ultra-shredded two-time CAC gold medalist, Devon Davis. While he might have been arguably the most peeled, he just lacked the structure and stage presence and was over matched by both Clarke and Andrews in the overall pose down.
Fourth went to the vastly improved heavyweight champion Alex Hamilton.
Fifth and sixth went to Masters Champion, Clint Duke and lightweight ruler, Marlon Bennett.
Last but not least, the ever green Alisha Fortune took home the first place trophy in the Miss Body Fitness category ahead of Denzlyn Clarke.
Clad in a pink stilettos and a matching swimsuit, Fortune was statuesque, well-conditioned, and in one of her best forms.
The event was well coordinated and the organizers must get a thumbs up. Three-time Mr. Suriname, Soepe Koese guest posed at the event.
Fans were also treated to Men's Physique exhibition, the first ever on the Senior Championship stage.
Sponsors included Fitness Express, Hand in Hand, Digital Technology and others.
Around the Web