Robin Persaud is turning the Reagan Rodrigues Memorial 50-mile road race into a one man show.
Yesterday, the evergreen 39-year old was again victorious in the annual West Demerara fixture for the third successive year.
The Carlton Wheelers' elder wheelsman made it three in a row by out pedaling Team Coco's Chris Holder and Team United's Mario King in a thrilling sprint finish.
Persaud also carted off half of the eight sprint prizes in winning the 10th annual event in one hour, 56 minutes and 50 seconds. More than a half of a minute faster than his winning time last year (1hr:57m:27s).
Team Alanis' Captain, Paul Choo-We-Nam and junior riders Kravitz Jeffrey finished a few bike lengths back in the fourth, fifth and sixth positions.
The race rolled off at Wales at a moderate pace but at Vreed-en-Hoop on the upward journey to Parika, the top six riders along with Hamza Eastman changed gears and separated from the rest of the 38 starters.
Unfortunately, Eastman suffered mechanical problems and was forced off the pace. The other six riders however rode in tandem and continued to stave off the peloton.
Their teamwork paid off as the six cyclists journeyed all the way back together until about 300m from the finish.
As expected teamwork was shelved and a fierce sprint to the line ensued. Persaud then turned on the jets on the home straight to record the trifecta.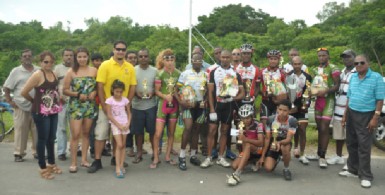 Race Summary
Top 6 Overall
Robin Persaud
Christopher Holder
Mario King
Paul Choo-We-Nam
Kravitz Jeffrey
Alonzo Ambrose
Juniors
Kravitz Jeffrey
Alonzo Ambrose
Shaquel Agard
Veterans
Davenand Ramnarine
Talim Shaw
Steve Ramsuchit
Mountain Bikers
Ozia McAlley
Julio Melville
Deeraj Garbarran
Notes: The race is held in memory of Rodrigues, the founder of the Carlton Wheelers club and former president of the Guyana Cycling Federation.
At the presentation ceremony, winners and runners up were presented with food hampers and trophies by members of the Rodrigues family and representatives of Ricks and Sari, the company that sponsored the event.
Brief congratulatory remarks were also made to the cyclist for making the event a success by organizer of the race,
Hassan Mohamed and Director of Sport, Neil Kumar.
Around the Web