By Delvon Mc Ewan
Guyana continued its impressive run in the West Indies Cricket Board (WICB) Regional Under-19 Tournament with a comprehensive victory over the Leeward Islands in their opening limited overs encounter yesterday at the Enmore Community Development Centre ground.
Propelled by a well-constructed Kemo Paul's innings of 86, Guyana posted 202 all out in 49.2 overs after winning the toss and opting to bat. The locals then returned to dismiss the visitors for a paltry 126 all out in 42.2 overs to win the match by 76 runs.
The host team, which boasts a strong batting department, slipped to 60-5 before Paul's brilliance assisted his team to set a winning total. Paul, who scored a match saving 90 to draw Guyana's opening three-day match against the same opponents, struck four fours and a solitary six while facing 105 deliveries. He partnered with Steven Sankar (14) who batted at number 10 for a partnership worth 58 which was the highest during the innings.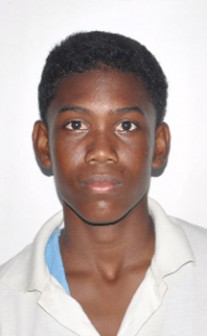 The 16-year-old Paul, who was dropped on 77 was finally removed in the penultimate over of his team's innings as he tried to score quickly. Sharaz Ramcharan (23) and Tagenarine Chanderpaul (21) were the only other batsmen to score more than 20. The Leewards skipper Jeremiah Louis led their bowling attack with 4-23 from eight effective overs while West Indies U-19 player Alzarri Joseph and Ashman Hodge claimed two wickets each.
In reply to the host's total, the visitors suffered an early set back when Ross Powell, who scored a century against Guyana in the longer version was bowled by pacer Nial Smith off the second ball of his side innings. However, it was the spinners that took charge after that as the visitors slipped further into trouble when Smith's new ball partner, spinner Balchan Baldeo accounted for the next three wickets that left the Leewards at 22-4. Baldeo bowled 10 consecutive overs that went for 15 runs and included four maidens and three wickets. His effort was supported by leg spinner Sankar and off spinner Ramcharan who collected two wickets each. Louis top scored for his side with 29 while Moit Hingarani who opened the batting scored 26.
Guyana will take on the ICC Americas at 9:30 today at the Georgetown Cricket Club (GCC) ground, Bourda. While in other second round matches, Windward Islands will play Barbados at Demerara Cricket Club (DCC) and Jamaica taking on Leeward Islands at Wales. Trinidad and Tobago draw the bye.
 Scoreboard
GUYANA
S. Hetmyer b Joseph                                                  14
T. Chanderpaul b Louis                                                21
*B. Sattaur lbw b Joseph                                                 0
B. Baldeo lbw b Louis                                                  6
A. Homraj c Joseph b Hodge                                          5
S. Ramcharran b Martina                                                   23
K. Paul c Louis b Hodge                                                85
+K. Savory lbw b Hingorani                                            6
D. Waldron b Louis                                                         5
S. Sankar c wkpr Clarke b Louis                                    13
N. Smith not out                                                                2
Extras (lb5, w17)                                                           22
TOTAL (all out, 49.2 overs)                                           202
Fall of wickets: 1-24, 2-24, 3-46, 4-54, 5-60, 6-98, 7-107, 8-140, 9-198, 10-202.
Bowling: Joseph 10-0-46-2, Archibald 3-0-23-0, Louis 8.2-1-23-4, Hodge 9-1-32-2, Carty 1-0-5-0 Martina 10-0-36-1, Hingorani 8-0-32-1.
LEEWARD ISLANDS
R. Powell b Smith                                                             2
M. Hingorani run out                                                      26
D. West lbw b Baldeo                                                         5
K. Carty c Hetmyer b Baldeo                                          7
A. Hodge b Baldeo                                                          0
+J. Clarke lbw b Sankar                                                  10
*J. Louis c Hetmyer b Ramcharran                              29
S. Martina c Ramcharran b Waldron                            14
K. Scott b Sankar                                                            8
A. Joseph c and b Ramcharran                                         8
C. Archibald not out                                                         0
Extras (b2, lb2, w3, nb10)                                            17
TOTAL (all out, 42.2 overs )                                      126
Fall of wickets: 1-2, 2-8, 3-22, 4-22, 5-60, 6-64, 7-88, 8-99, 9-126, 10-126.
Bowling: Smith 3-0-15-1, Baldeo 10-4-15-3, Paul 5-1-19-0, Ramcharran 6.2-1-13-2, Sankar 10-0-29-2, Waldron 8-1-31-1.
Result: Guyana Under-19s won by 76 runs.
Points: Guyana Under-19s 6.1, Leewards Under-19s 0.6.
Toss: Guyana Under-19s.
Umpires: D. Butler, S. Crawford.
Around the Web