USA-based track and field star Kadecia Baird has pulled out of the Boyce/Jefford Classic scheduled for mid-month in Linden.
The quarter miler who earned silver at the 2012's World Juniors and gold at this year's CARIFTA Games, heard reports through social media that the Mackenzie Sports Club ground is unfit for a track meet and that influenced her decision.
Baird who was tagged to be one of the major drawing cards at the fifth edition of the Classic told Stabroek Sport on Wednesday that "I heard that the track isn't good for running."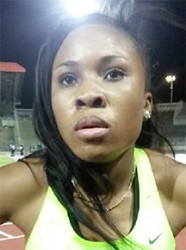 News of Baird's decision comes on the heels of last year's champions, Running Brave Athletic Club deciding not to compete at the August 16-17 fixture.
According to co-head coach of the club, Julian Edmonds, their decision was based on the unpreparedness of their athletes caused by the ongoing rehabilitative works at their training base in the National Park.
The absence of Guyana's premier track and field club along with Baird's declining will be a major blow for the organizers since it will take away from the quality of the event.
It will also force the organizers who were adamant that the meet will never shift from Linden to explore using the National Stadium or the soon to be completed Leonora Synthetic Facility.
When contacted for a comment, co-founder of the Classic, Colin Boyce said that the absence of Running Brave and Baird "might be a small percentage but nothing significant."
Boyce was however optimistic that once the track is suitable there is a possibility that Baird would lace up her running shoes.
"I'm optimistic that she will very well come and compete, I spoke to her mom yesterday morning and we will be working our hardest to make the track suitable for running. Once we can get the track in tip-top shape it's possible she will be here to run."
Boyce also reminded that track and field standouts like Tonya Nero from Trinidad, Daniella Clarke from Suriname, Joshua Hamilton from St. Vincent, Kenisha Pascal from Grenada, Brenessa Thompson from the US along with notable locals are confirmed to compete. (Emmerson Campbell)
Around the Web