Guyana's world renowned bodybuilder Hugh Ross, has been rewarded by Mohamed's Enterprise for his outstanding achievements, most recently his second place finish at the World Master's Championships two months ago in Northern Ireland.
The US-based vice president of the GABBFF who is currently in Guyana on official duties was presented with a cheque valued $US2000 by CEO of the Lombard Street entity, Nazar Mohamed yesterday.
Ross was the first runner up in a field of nine bodybuilders in the Masters' Over 50 category at the 31st NABBA World Bodybuilding Championships at the Belfast Waterfront.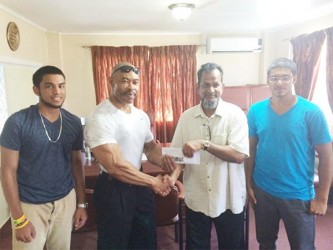 The 54-year-old behemoth, who took the stage with 199lbs of shredded muscle, shrugged off cramps in his quarter turns routine to finish second to UK's Gary Lister who is a nine-time Mr. Universe Masters champion.
Third was Martin Holroyd from the UK as well.
Mohamed stated that Ross has always made Guyana proud whenever he competed under the Golden Arrowhead and he should be rewarded for his exploits.
The Mohamed's Enterprise boss also appealed to other corporate entities to support local sportsmen and women.
Guyana's most decorated muscleman then humbly extended his gratitude to Mohamed who has been his sole supporter.
The 2010 Mr. Universe Masters champion also appealed for other businesses to follow in the footsteps of Mohamed not just for personal support but for other athletes. (Emmerson Campbell)
Around the Web