The stage has been set and the battle lines drawn for what should be a grudge match between two sides boasting some of the finest cricketers this country has ever produced.
This afternoon's T20 match at the Providence National Stadium between the President's XI and the Masters' XI is part of a much bigger act, the inaugural Guyana Festival, an event which showcases the best that Guyana has to offer in several genres.
The brainchild of the Ministry of Tourism, the objective of the Guyana Festival is to expose Guyana's cultural heritage, local manufactured products and services and local celebrities.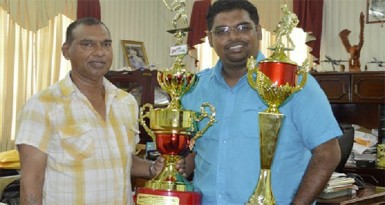 According to the event's website,"'Destination Guyana' boasts an irresistible combination of fascinating and breathtaking natural beauty; pristine Amazonian rainforests; immense waterfalls;, amazing wildlife all blended with a vibrant indigenous culture, rich heritage and the most hospitable and friendly people in the world.
"We believe 2014 holds a lot of optimism for our tourism sector as we seek to make 'Guyana – the Amazon Adventure', the destination of choice through a series of unique and exciting events, including the Guyana Festival…Sound, Soul and Taste of the destination," the website stated
Led by former West Indies players Clayton Lambert and Ramnaresh Sarwan today's match which is expected to get underway from 4pm, is expected to produce the customary fireworks associated with T20 cricket.
And if the crowds that flocked to see the recent Limacol Caribbean Premier League matches at the stadium featuring local franchise the Amazon Warriors, then today's match will be played before a full house.
Sarwan led Guyana to the inaugural win of the Allen Stanford T20 tournament and will be keen to lead his side to another victory today.
Lambert, 52 never played a T20 match for the West Indies but will be remembered as a pugnacious batsman in the One Day format.
His team will include players of the caliber of Travis Dowlin, Sew Shivnarine, Derrick Kallicharran, Clyde Butts and Colin Stuart while Sarwan's team will include West Indies test batsman Shivnarine Chanderpaul, Lennox Cush, one of the few bowlers to record a hat trick in the T20 format, former West Indies `leggie' Mahendra Nagamootoo, former West Indies speedster Reon King and Esaun Crandon.
Meanwhile Ramesh Sunich, the popular proprietor of Trophy Stall has again come to the support of another mega sport event in Guyana.
Sunich has donated two lien trophies for the winning cricket team and the winners of a special football match between the Guyana Defence Force and Slingerz.
That match will be played immediately after the cricket match.
Sunich recently presented the trophies to Tourism, Industry and Commerce Minister, Irfaan Ali, himself a staunch cricket fan.
Ali praised Sunich's efforts in assisting sports events with sponsorship while Sunich in reply expressed the view that the gesture was an action of demonstration for the support and success of the Festival.
Teams: Master's XI reads: Clayton Lambert – Captain, Travis Dowlin, Sudesh Dhaniram, Rabindranauth Seeram, Faoud Bacchus, Steve Messiah, Sew Shivnarine, Derrick Kallicharran, Sheik Mohamed (wicketkeeper), Kevin Darlington, Arjune Nandu, Clyde Butts, Keon Joseph, Raun Johnson, Colin Stuart, Hubern Evans and Amir Khan. Manager/Coach – Mark Harper
President's XI reads: Ramnaresh Sarwan – Captain, Shivnarine Chanderpaul, Azeemul Haniff, Sewnarine Chattergoon, Assad Fudadin, Lennox Cush, Vishal Nagamootoo – (wicketkeeper), Mahendra Nagamootoo, Roderick Lovell, Rayon Griffith, Zaheer Mohamed, Chanderpaul Hemraj, Anthony Bramble, Reon King, Esaun Crandon and Jermaine Neblette. Manager/Coach – Garvin Nedd
Following the matches will be a `Night of the Legends' concert which will feature a number of local artistes of considerable repute such as
Dave Martins, Sammy Baksh, Terry Gajraj, the Yoruba Singers, Mighty Rebel, Sash Persaud, Celia Samaroo, Teddy Jones, Johnny Braff, Glenn Miller, Hilton Hemerding, Winston Caesar and Aubrey Mann.
Around the Web