BASSETERRE, St Kitts, CMC – In-form opener Lendl Simmons narrowly missed out on three figures as Guyana Amazon Warriors completed the highest ever run chase in the Caribbean Premier League, to beat St Lucia Zouks by eight wickets here yesterday.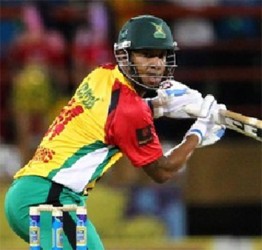 Set an imposing 190 for victory at Warner Park, Amazon Warriors reached their target with an over left, with Simmons run out for 97 in the penultimate over of the game.
He counted five fours and eight sixes in an electrifying knock that consumed just 60 balls, and which erased any doubt about the result.
The Trinidadian put on an enterprising 154 for the first wicket with New Zealander Martin Guptill who slammed 66 from 47 balls, as Amazon Warriors hardly put a foot wrong in pulling off their six win of the tournament to move to 12 points.
They are now level on points with title holders Jamaica Tallawahs and Trinidad and Tobago Red Steel but lie second on net run rate.
The result was a heart-breaking one for Zouks who were hoping to at least finish their luckless preliminary campaign on a high.
With just two wins under their belt and long eliminated from playoff contention, Zouks were scenting a third win and second of the weekend when openers Andre Fletcher and Johnson Charles hammered half-centuries to get their side up to 189 for seven off 20 overs.
Fletcher smashed 78 from 49 balls including five fours and five sixes and Charles, 62 from 46 deliveries, in adding an upbeat 139 for the first wicket, after they were sent in.
Seamer Navin Stewart finished with three for 22 while left-arm pacer Krishmar Santokie picked up two for 39.
Charles started in high gear, lifting off-spinner Mohammed Hafeez to mid-wicket for one of his three fours and following up with a similar stroke for the first of his three sixes, as the second over of the game cost 12 runs.
Fletcher followed suit, clobbering Santokie for a straight six in the next over before crunching another two boundaries in the Jamaican's next over.
They combined to take a six each off Simmons' third over of medium pace which leaked 17 runs, carrying Zouks past the 100-run mark in the 12th over.
Both batsmen eventually succumbed to leg-side catches in Stewart's first over, the 16thof the innings, triggering a slump that saw six wickets fall for 46 runs.
Captain Darren Sammy then struck a cameo 22 from 13 balls with three powerful sixes – two coming in an eventful final over bowled by Santokie that also accounted for two wickets and cost 14 runs.
Amazon Warriors were then given a flying start by Simmons who ripped into speedster Tino Best with devastating effect.
As early as the second over, he advanced to the right-armer to belt him over mid-wicket for six before stroking him through mid-off for four, as the over gave up 14 runs.
However, it was Best's next over – the fourth of the innings – where the fireworks erupted. Simmons advanced again to heave the first delivery over mid-wicket for six, before producing a carbon copy stroke next ball with the same result.
The third ball disappeared through mid-wicket for four and the fourth cleared long-on for the third six of the over. Simmons blasted the fifth delivery through mid-on for four as the over gushed 26 runs.
Guptill played the supporting role with six fours and two sixes before finally holing out to Kevin Pietersen at long on off Best in the 17th over.
Simmons, meanwhile, seemed a sure bet for a century when he moved to 96 but lashing seamer Mervin Mattew for three sixes in in the 18th over that cost 26 runs.
However, he was run out off the second ball of the next over, attempting a run that never existed but by then, Amazon Warriors were coasting.
Opener Lendl Simmons goes on the attack during his electrifying 97 yesterday.
  Scoreboard
ST LUCIA ZOUKS
J Charles c Guptill b Stewart 62
+A Fletcher c Simmons b Stewart 78
Sohail Tanvir c Permaul b Narine 6
K Pietersen c Guptill b Stewart 7
*D Sammy b Santokie 22
M Matthew run out 6
S Ambris not out 0
T Willett c Mohammad Hafeez b Santokie 0
S Shillingford not out 0
Extras (b1, lb1, w6) 8
TOTAL (7 wkts, 20 overs) 189
Did not bat: L Sebastien, T Best
Fall of wickets: 1-139 (Charles, 15.3 overs), 2-143 (Fletcher, 15.5), 3-152 (Sohail Tanvir, 16.3), 4-166 (Pietersen, 17.5), 5-182 (Mathew, 19.3), 6-189 (Sammy, 19.5), 7-189 (Willett, 20)
Bowling: Santokie 4-0-39-2 (w2), Mohammad Hafeez 1-0-12-0, Beaton 4-0-43-0 (w3), Narine 4-0-30-1, Permaul 2-0-13-0, Simmons 3-0-28-0, Stewart 2-0-22-3 (w3).
GUYANA AMAZON WARRIORS
L Simmons run out 97
M Guptill c Pietersen b Best 66
C Barnwell not out 14
*+D Ramdin not out 7
Extras (lb 2, w 7, nb 1) 10
TOTAL (2 wkts, 19 overs) 194
Did not bat: Mohammad Hafeez, J Neesham, N Stewart, V Permaul, S Narine, K Santokie, R Beaton.
Fall of wickets: 1-154 (Guptill, 17 overs), 2-181 (Simmons, 18.2)
Bowling: Sohail Tanvir 4-0-33-0 (w1), Best 4-0-54-1 (w1, nb1), Shillingford 4-0-24-0 (w1), Matthew 3-0-46-0 (w1), Sammy 2-0-22-0, Sebastien 2-0-13-0 (w2)
Result: Amazon Warriors won by eight wickets.
Points: Amazon Warriors 2, Zouks 0.
Man-of-the-Match: Lendl Simmons.
Toss: Amazon Warriors.
Umpires: Nigel Duguid, Patrick Gustard; TV – Peter Nero.
Around the Web