MANCHESTER, England, (Reuters) – England's Moeen Ali and James Anderson made up for the loss of Stuart Broad through injury with a devastating bowling display as the hosts skittled India out for 161 to win the fourth test Saturday for a 2-1 series lead.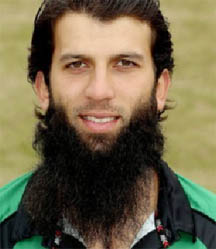 Spin bowler Moeen took four wickets and also contributed with an accurate arm for a run out as India, facing a first innings deficit of 215 runs, collapsed again on the third day of the fourth test at Old Trafford.
England, having scored 367-9 in their first innings, won by an innings and 54 runs and after dominating the last two test matches will be full of confidence ahead of the final match at the Oval starting on Friday.
India totalled 152 in their first innings after recovering from eight for four and almost collapsed again in Saturday's final session when they lost five wickets for 13 runs.
Broad, who took 6-25 in India's first innings to win the man of the match award, retired injured while batting after being struck in the face, with the ball splitting his nose, but his departure was more than covered for by England's other bowlers.
As Broad left for X-rays that showed he had fractured his nose, Moeen stepped into the role of chief destroyer alongside Anderson, who had climbed from his sick bed to wreck the foundations for any Indian recovery with two early wickets.
"This is why you hang in during the tough times – to appreciate the good times," said England captain Alastair Cook, whose future was questioned after the second test at Lord's where India extended England's winless run to 10 matches.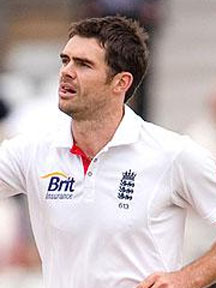 "There are a lot of good things going on at the moment and we just have to keep going.
"Stuart Broad has got a broken nose and we are going to have to wait and see. It's pretty sore and we hope it doesn't spoil his good looks! Jimmy has had the lurgy and has been really under the weather – so that's a great effort by him."
The England and Wales Cricket Board later tweeted that Broad "will be treated over the course of the week and the medical team anticipates he will be available for the fifth test."
 POOR BATTING
India captain Mahendra Singh Dhoni conceded that his team's batting had let them down.
"Even in the first innings, we weren't up to the mark," he said. "We have to improve before the next test.
"So far in this series, our batting has not clicked. We've played with a fifth bowler and, more often than not, he has got the runs. That has camouflaged the performance of the top order."
England, 237-6 overnight, ended their first innings on 367-9, with Broad forced to retire injured after being struck by a bouncer from Varun Aaron that he glanced into his own face.
The ball flew between his protective visor and helmet and struck Broad across the bridge of his nose, an injury that left him groggy and bloodied.
Broad, on zero, had resumed after lunch by pulling Aaron for two sixes in succession before mistiming a similar effort as he aimed for a third big hit.
 FIRST WICKET
Earlier, India paceman Pankaj Singh, who made his debut in the third test at Southampton, had claimed his first wicket in test cricket when he removed Joe Root (77) to end a robust 134-run partnership with Jos Buttler.
Singh soon doubled his wicket tally when he dismissed Buttler for 70 as England hurried to press home their advantage.
Broad's bloody departure brought in Anderson who joined Chris Woakes in adding 29 before he was out lbw to his recent antagonist Ravindra Jadeja.
Anderson was soon back in the middle to lead the England attack with Woakes who trapped Vijay lbw for 18.
With heavy rain forecast for today, England attacked relentlessly and India buckled as Anderson and Moeen took the initiative, the paceman removing Gautam Gambhir, caught by Buttler for 18, and Virat Kohli, caught by Bell at second slip for seven.
Moeen then took beguiling control. Having trapped Cheteshwar Pujara lbw for 17, he caught and bowled Ajinkya Rahane for one as India crumbled. A diving catch by Gary Ballance at midwicket removed Dhoni for 27 before Chris Jordan helped mop up the tail.
SCOREBOARD
India 1st innings 152 (M. Dhoni 71; S. Broad 6-25) England 1st innings
A. Cook c Singh b Aaron       17
S. Robson b B. Kumar           6
G. Ballance lbw b Aaron         37
I. Bell c Dhoni b B. Kumar   58
C. Jordan c Aaron
b B. Kumar                             13
J. Root c Dhoni b Singh         77
M. Ali b Aaron                       13
J. Buttler c Pujara b Singh       70
C. Woakes not out                     26
S. Broad retired hurt                 12
J. Anderson lbw b Jadeja           9
Extras (b-5 lb-12 nb-6 w-6) 29 Total (all out, 105.3 overs) 367
Fall of wickets: 1-21 S. Robson,2-36 A. Cook,3-113 G. Ballance,4-136 C. Jordan,5-140 I. Bell,6-170 M. Ali,7-304 J. Root,8-325 J. Buttler,9-367 J. Anderson Bowling B. Kumar 24 – 7 – 75 – 3(w-2) P. Singh 28 – 5 – 113 – 2(w-2) V. Aaron 26 – 4 – 97 – 3(nb-5 w-2) R. Ashwin 14 – 1 – 29 – 0 R. Jadeja 13.3 – 1 – 36 – 1(nb-1)
India 2nd innings
M. Vijay lbw b Woakes         18
G. Gambhir
c Buttler b Anderson               18
C. Pujara lbw b Ali                   17
V. Kohli c Bell b Anderson       7
A. Rahane c&b Ali                       1
M. Dhoni c Ballance b Ali     27
R. Jadeja c Jordan b Ali           4
R. Ashwin not out                 46
B. Kumar run out                 10
V. Aaron c Buttler b Jordan     9
P. Singh b Jordan                      0
Extras (b-1 lb-1
nb-1 w-1)                               4
Total (all out, 43 overs)       161
Fall of wickets: 1-26 M. Vijay,2-53 G. Gambhir,3-53 C. Pujara,4-61 A. Rahane,5-61 V. Kohli,6-66 R. Jadeja,7-105 M. Dhoni,8-133 B. Kumar,9-161 V. Aaron,10-161 P. Singh To bat: Bowling J. Anderson 9 – 4 – 18 – 2 C. Woakes 9 – 2 – 37 – 1 C. Jordan 12 – 1 – 65 – 2(nb-1 w-1) M. Ali 13 – 3 – 39 – 4 Referees Umpire: Marais Erasmus Umpire: Rod Tucker TV umpire: Richard Kettleborough Match referee: Ranjan Madugalle Result: England won by an innings and 54 runs
Comments

Guyana Amazon Warriors left a packed house heartbroken after folding to the Jamaican Tallawahs by two runs in a thrilling final over, as they began their home leg of this year's Caribbean Premier league (CPL) with a school boyish display, last evening at the Guyana National Stadium, Providence.

DUBAI, England, CMC – Reigning champions West Indies Under-19s will be part of history, when they kick off their title defence of the ICC Youth World Cup (YWC) against hosts New Zealand Under-19s.

Guyana ended their Group-F campaign in the CONCACAF Boys U15 Championship on a winning note, edging St.

BIRMINGHAM, England, CMC – A day that started brightly ended in typical uncertainty for West Indies, after Alastair Cook and Joe Root plundered hundreds to give England an early hold on the historic first Test on Thursday.
BASSETERRE, St. Kitts, CMC – A strong all-round performance from Javeor Royal propelled Jamaica Under-19s to a four-wicket victory over ICC Americas Under-19s in the Regional One-day youth tournament on Thursday.