GALLE, Sri Lanka, (Reuters) – Left-arm spinner Rangana Herath claimed six wickets as Sri Lanka fashioned an unlikely seven-wicket victory over Pakistan to go one-up in the two-test series yesterday.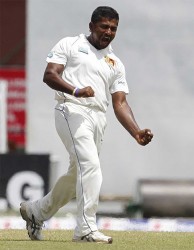 Herath took six for 48 as Pakistan crumbled to 180 allout in their second innings, leaving Sri Lanka to chase 99 for victory in 21 overs in a contest that looked to be heading for a draw at the start of the final day.
Sri Lanka got there with 4.4 overs to spare with skipper Angelo Mathews, who hit an unbeaten 25, stroking the winning runs to spark off celebrations around the ground.
Herath cleaned up the Pakistan tail, leaving Sarfraz Ahmed unbeaten on 52, his second half-century of the match. Dilruwan Perera chipped in with 2-68, following up his five-wicket haul in the first innings.
"This is not a kind of pitch that is bowler friendly but I realized that on the fifth day there was something in it for the spinners… we had a lot of faith," Herath said.
"When there is support from another spinner it's easy to bowl and take wickets. In that aspect Dilruwan supported me very well that's why I was able to take so many wickets."
Pakistan captain Misbah-ul-Haq said Sarfraz's half-centuries were one "positive" he could take from a defeat he put down to folding "under pressure".
"I think credit should be given to Herath, he knew these conditions very well, especially Galle, he's been so successful here and he varied his length and pace well," Misbah said.
"I think on the last day the match situation also gets you under pressure and you make mistakes."
The second test starts in Colombo on Thursday and will be the final appearance of former Sri Lankan captain Mahela Jayawardene in the longer form of the game.
SCOREBOARD
Pakistan 1st innings 451 (Y. Khan 177, A. Shafiq 75, S. Ahmed 55, A. Rehman 50; D. Perera 5-137) Sri Lanka 1st innings 533 for 9 decl (K. Sangakkara 221, A. Mathews 91, K. Silva 64, M. Jayawardene 59; S. Ajmal 5-166)
Pakistan 2nd innings (Overnight: 4-1)
K. Manzoor c Dickwella b Herath                                      3
A. Shehzad lbw b D. Perera                                          16
S. Ajmal c Dickwella b Prasad                                        4
Az. Ali c Dickwella b Herath                                            41
Y. Khan b Herath                                                        13
Misbah-ul-Haq lbw b D. Perera                                     28
A. Shafiq lbw b Herath                                                   8
S. Ahmed not out                                                             52
A. Rehman c Dickwella b Eranga                                     1
M. Talha c Dickwella b Herath                                       4
J. Khan lbw b Herath                                                      0
Extras (b-7 lb-3)                                                             10
Total (all out, 80.2 overs)                                            180
Fall of wickets: 1-3 K. Manzoor,2-11 S. Ajmal,3-39 A. Shehzad,4-55 Y. Khan,5-111 Az. Ali,6-111 Misbah-ul-Haq,7-133 A. Shafiq,8-153 A. Rehman,9-178 M. Talha,10-180 J. Khan
Bowling R. Herath 30.2 – 11 – 48 – 6 S. Eranga 14 – 5 – 44 – 1 D. Perera 28 – 6 – 68 – 2 D. Prasad 8 – 3 – 10 – 1
Sri Lanka 2nd innings (Target: 99 runs)
U. Tharanga b J. Khan                                                 12
M. Jayawardene b J. Khan                                             26
K. Sangakkara c Manzoor b Talha                                    21
A. Mathews not out                                                        25
K. Vithanage not out                                                       11
Extras (lb-3 w-1)                                                            4
Total (for 3 wickets, 16.2 overs)                                    99
Fall of wickets: 1-28 U. Tharanga,2-59 M. Jayawardene,3-73 K. Sangakkara Did not bat: K. Silva, N. Dickwella, D. Perera, D. Prasad, R. Herath, S. Eranga Bowling S. Ajmal 6 – 0 – 29 – 0 J. Khan 8 – 0 – 55 – 2(w-1) M. Talha 2.2 – 0 – 12 – 1 Referees Umpire: Ian Gould Umpire: Bruce Oxenford
TV umpire: Richard Illingworth Match referee: Andy Pycroft Result: Sri Lanka won by 7 wickets
Around the Web